TRIOS Smile Design — Software updates
What's new: improvement and changes
Releasing during June 2021
Smile Design 21.1 delivers an improved user experience, increased efficiency with new automation, increased ease of use, and new tools for adjusting and sharing the simulations.
Selection of libraries for lower incisors
More varied design options and more comprehensive treatment opportunities are now available in TRIOS Smile Design with the introduction of smile libraries for the lower incisors. You can now show patients designs including both the upper and the lower teeth when considering their aesthetic concerns and treatment goals.

Automated Photo Alignment
Building on the previous update's automation of the placement of the facial landmarks and lip-line, the alignment of the portrait and retracted photos is now automated as well. As such, the photo-preparation steps are now fully automated and only require you to inspect and press "next" or make minor adjustments if desired. This means more time to design beautiful smiles for your patients.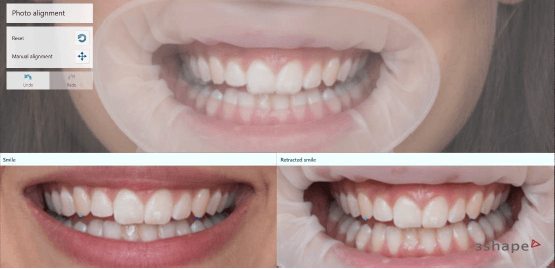 Extended Photo Export and Sharing Options
When a Smile Design is completed, resulting in a photorealistic simulation, wanting to share it is only natural. To support this, TRIOS Smile Design now enables the following options:
Anonymize the photo of the patient by blurring over the eyes.
Add your clinic's logo to any of the image's corners to brand the simulated design and promote your work.
Export an animated gif, showcasing the transition from the "before" to the "after" state, including anonymization and any branding option specified.
Compress the output images for easier and faster sharing.
Snap to Teeth Tool
Adapt any library to match the exact outlines of the patients' existing teeth for cases where only minor adjustments are needed to the patient's natural dentition. You can use the "snap to" tool either for all the teeth or only for a selected tooth/teeth.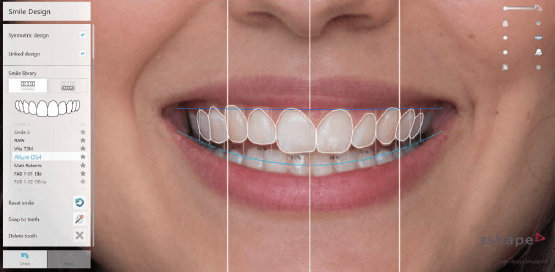 Photo Adjustment Tools
Should the photo/s used within TRIOS Smile Design require any optimizations to maximize the photo quality, users of TRIOS Smile Design will now be able to adjust brightness, contrast, hue and saturation all from within the TRIOS Smile Design software for extra convenience and efficiency.
Useful links
Training Videos
Find all training videos on our '3Shape Training Videos' Youtube channel. Get started with TRIOS Smile Design by accessing the training video below:
Do you own other 3Shape solutions?
Check out what's new in your software to get the most out of your digital dentistry solution.