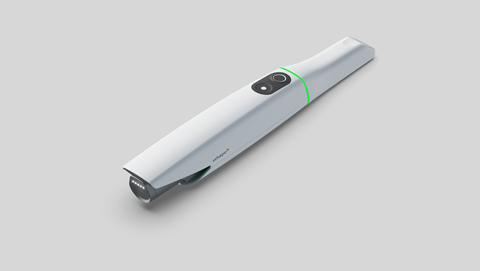 Our new scan engine avoids stitching errors by reconstructing and building up the 3D model while scanning.
Today, most intraoral scanner brands require you to use a scan strategy or protocol in order to ensure good data collection. You need, for example, to start with the molar occlusal surface because it helps you capture the right level of detail. Not following the scan strategy could lead to difficulties in properly stitching the 3D model together. This might result in the scan needing to be redone. We rebuilt our entire scan engine to remove that inconvenience.
Now, you can scan your patients in any direction you want and create a scan path that works best for you.
We care about a good scan experience. A few years ago, we automated the process for cleaning up the scan with the help of artificial intelligence (AI). With our new scan engine, we bring effortless scanning to a new level. ScanAssist ensures the 3D scan model that you generate is continuously updated with the latest information. As a result, alignment of the scan data will be close to perfect, and you will end up with a remarkably high-quality scan, no matter your level of experience with scanning.
You'll create great scans, effortlessly.