Digital dentistry training for dental professionals
Watch video
Are you looking for courses, seminars and training material to make the most out of your CAD/CAM solution and bring your digital dentistry to the next level? 
What is the 3Shape academy?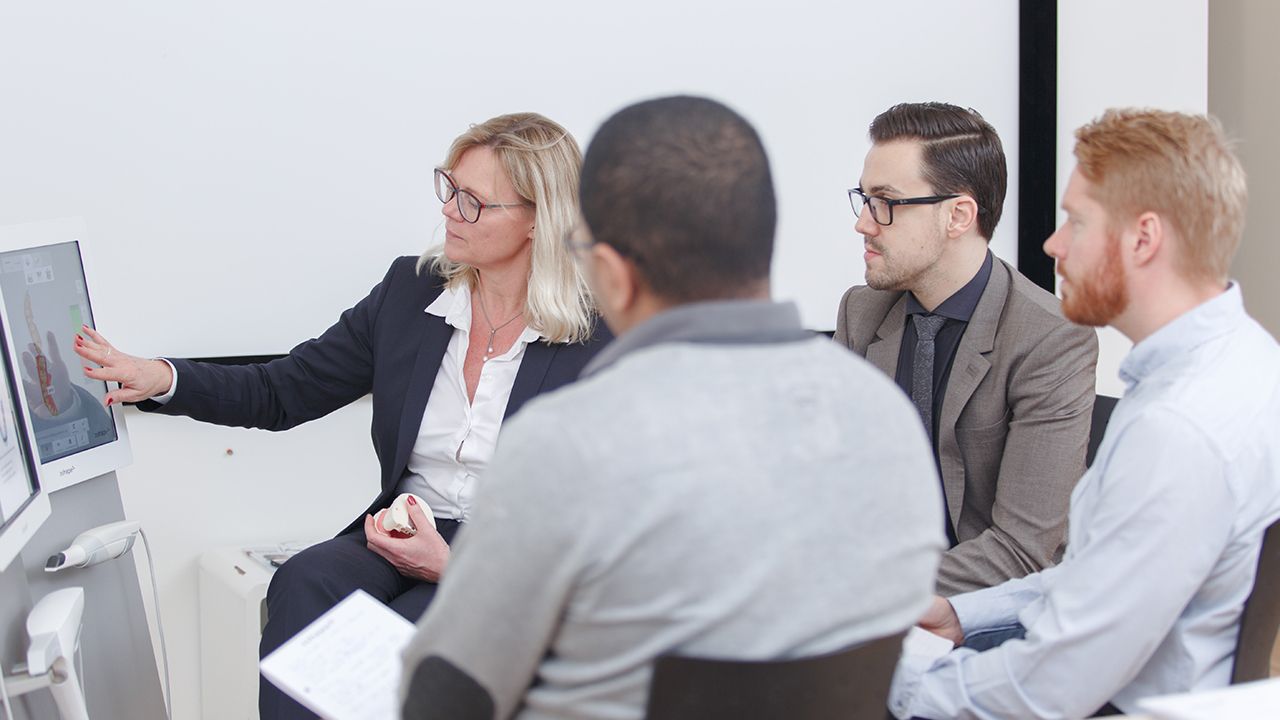 Classroom and online
training
CAD/CAM solutions make dentistry faster, accurate, and more effective, but digital technology evolves and develops. 3Shape Academy gives you access to a wide range of courses, webinars and training materials that keep you up-to-date with the latest digital innovations.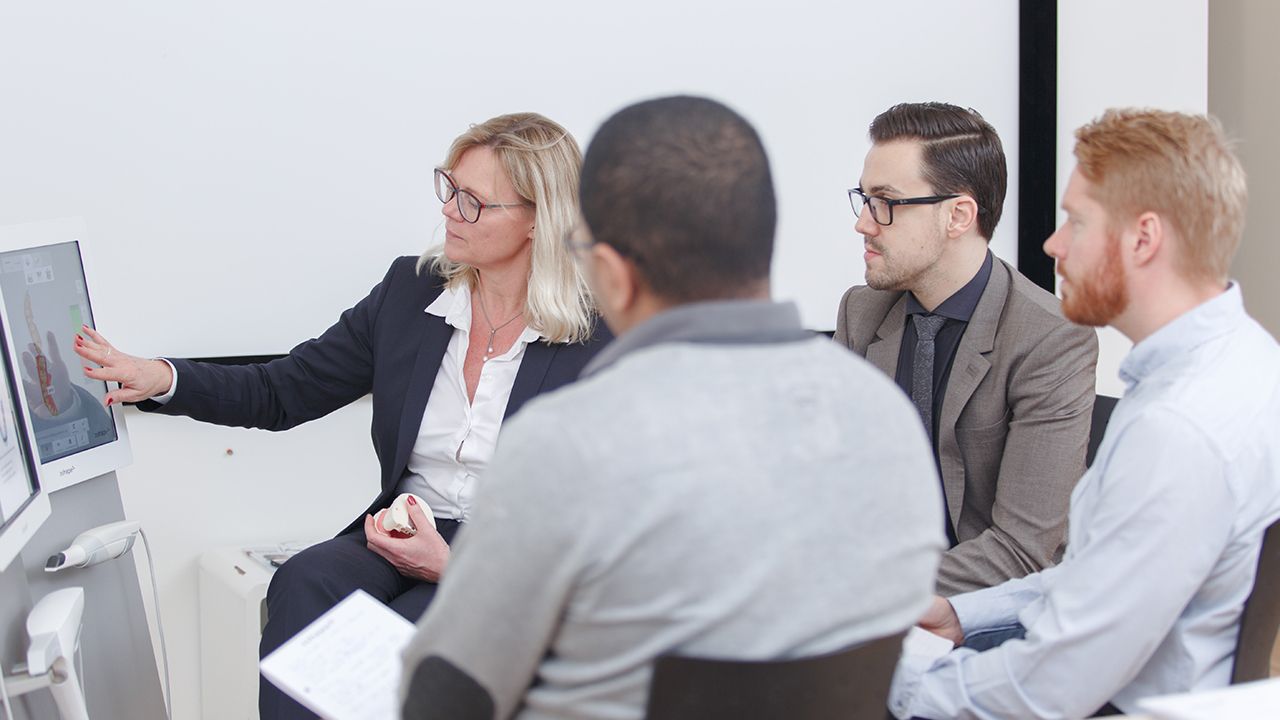 What the 3Shape Academy offers 
Classroom courses
We offer classroom-based training in nine countries - conducted by dental professionals with years of experience  working in clinics or labs. 
Online webinars
If you prefer online learning or you aren't located near a training location, you can attend live webinars or re-watch any archived webinars at your own convenience. 
Training material
For inspiration and help getting started with our solutions, we've created a range of training videos and how-to guides.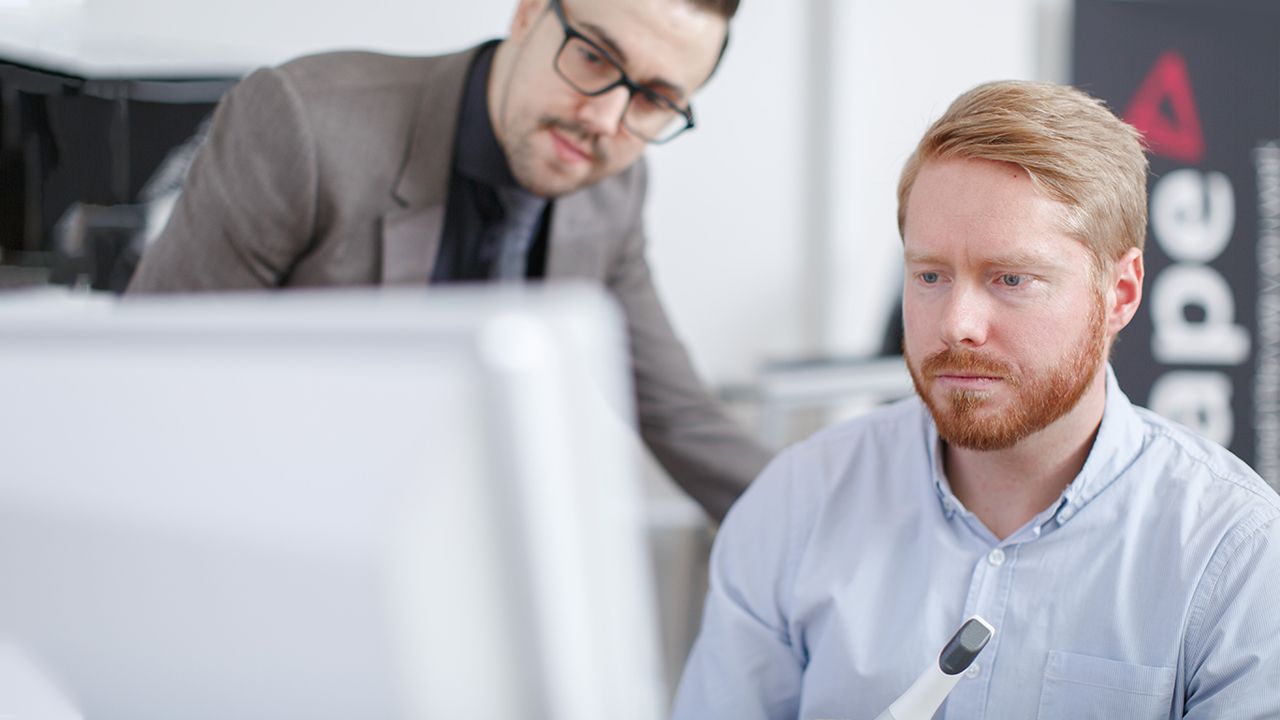 Apply your
new skills

immediately

Classroom courses are conducted at our own designated training premises. Our courses take a pragmatic approach and use day-to-day examples to illustrate best practice and tips and tricks, so you'll be able to apply lessons directly to your daily work. Our trainers have years of experience with digital dentistry and are trained dental professionals.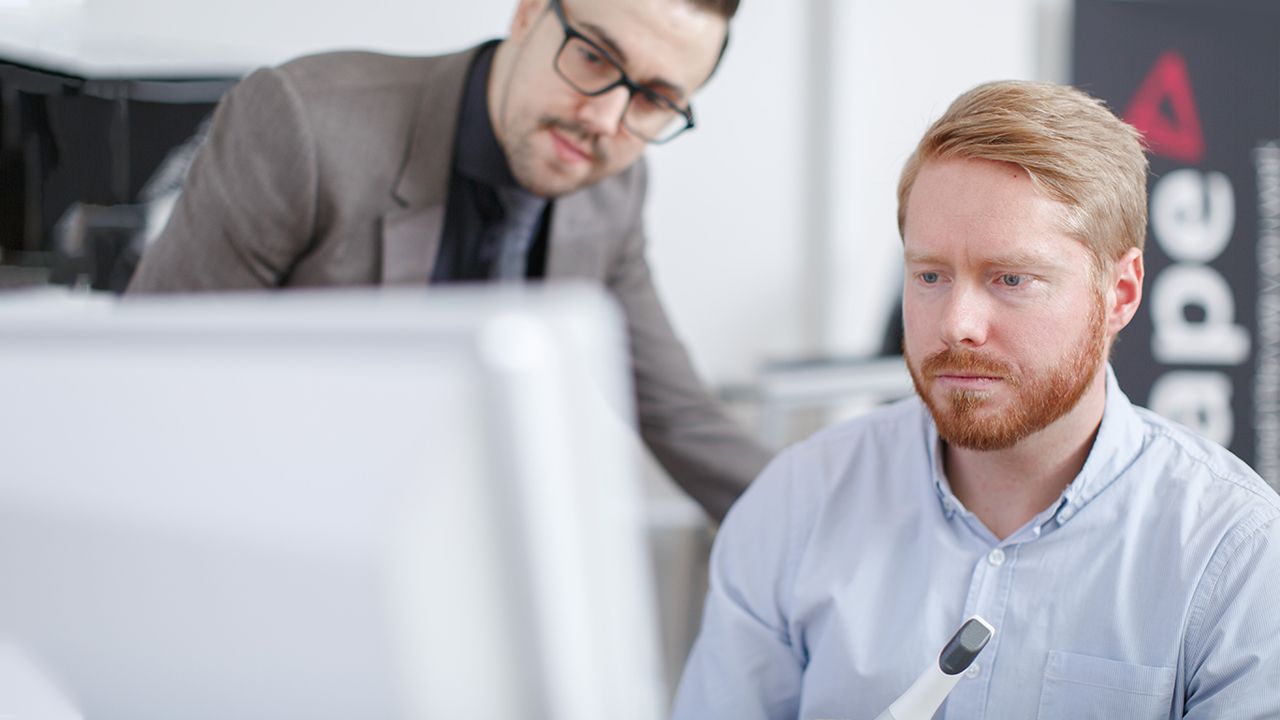 Meet the Headquarter Trainers
Our webinars offer a great opportunity to advance your knowledge of specific features, dental workflows, software updates, and more. Webinars are conducted by 3Shape product developers and experts, so this is the closest you can get to the source of our digital solutions! Each live webinar comes with an opportunity for Q&A, so your questions can be answered on the spot.
Upcoming webinars
| Webinar Name | Start Date | End Date |
| --- | --- | --- |
Archived webinars
Webinar Name

Start Date

End Date

Patient Communication #2 - Go Beyond scanning with a peer dentist (English)

June 19, 2019 17: 00

June 19, 2019 17: 45

Advanced level - how to use visuals for a better patient experience

Get insight on how a peer dentist uses visuals to create a better patient experience, gets faster case acceptance and is able to follow treatments very exact.

You will get an intro to Smile Design, Treatment Simulator and experience what a strong tool TRIOS Patient Monitoring is in the modern dental practice.

Simply Fabulous (English)

June 19, 2019 15: 00

June 19, 2019 16: 00

Webinar with Przemek Seweryniak and Kate Brantvik on Fabulous Smile library and book - learn how to use the Fabulous Smile library in 3Shape Dental System. This webinar will focus on how to use the Fabulous Smile library in 3Shape Dental System and the Fabulous Smiles book to achieve an easy and predictable workflow. We´re going to take a look in the book and check out the models, go through some simple photography tips to achieve the best pictures for Smile Design, Real View and patient presentation, then how we can use the Smile Design to create a perfect wax-up for the patient.

Patient Communication #3 - Go Beyond Treatment (English)

June 20, 2019 17: 00

June 20, 2019 17: 45

Expert level - how to build a business around digital dentistry

Familiarize yourself with the future of digital dentistry:

Scanning every patient every time to ensure the best preventative care possible
Monitor treatments
Discover changes that is not possible with the naked eye

TRIOS Patient Monitoring is a strong communications tool - see how you can use it in your practice.

3Shape Dental System 2019 – Neuheiten (German)

June 26, 2019 10: 00

June 26, 2019 11: 30

Sprache: Deutsch

Zielgruppe: Dentallabore

Themenschwerpunkte:

Neuigkeiten in 3Shape Dental System 2019

Aufbau des Webinars:

Theorie
Live Demonstration
Frage-/ Antwortrunde

*Bitte teilen Sie uns bei der Anmeldung Ihre Donglenummer mit. Dieses kostenlose Webinar ist ein exklusiver Service für 3Shape LabCare Kunden. Anleitung: Wählen Sie das 3Shape Dental System Control Panel auf dem Desktop aus oder starten Sie 3Shape Dental System Control Panel direkt aus dem Dental Manager. Klicken Sie unter Werkzeuge auf "Abonnement-Management (Dongle)." Dort wird Ihnen die Dongle-Nummer angezeigt.

Plan, place and restore same-day: A hands-on webinar on immediate implant placement and screw-retained restoration workflow

July 2, 2019 15: 00

July 2, 2019 16: 00

A practical insight into the most current digital techniques for digital planning, placement and restoration of dental implants.

We will look at the new SRC features in detail from a dentist and technician perspective.

Watch Webinar

Patient Communication #1 - Go Beyond Scanning (English)

August 18, 2019 17: 00

August 18, 2019 17: 45

Basic level - how to use excitement apps as a strong patient communication tool

The webinar is for the dentist believing that patient communication is a key in their business.
It is aimed at dentists considering to purchase or that are having an intra oral scanner already.

Digital dentistry opens a variety of possibilities for dentists and patients.
We will go through the different digital communication tools offered with the TRIOS scanners.

How to create a smile design in minutes
How to set up a business model offering clear aligners if you are a general practitioner
What are the future benefits in scanning your patient during every visit
On-demand training material
Our training videos, how-to guides and other resources offer you help when and where you need it – from home, in your office or on the go. 
YouTube channel
Find a wealth of training videos, presentations of new features, testimonials and marketing videos.
Training videos
Our Training Video channel is packed with instructional videos and training material, organized by product.
Community
Our user community lets you dive even deeper with access to a knowledge base with how-to guides, events and a user forum.