3Shape TRIOS — Software Updates
What's new: improvement and changes
3SHAPE TRIOS RELEASE
21.3

(JUNE 2021)
The 3Shape TRIOS Software continues to increase the value of your TRIOS scanner. Version 21.3 brings an enhanced scanning experience, improved functionality, and quality improvements. These new features have been designed to provide a seamless scanning experience in even the most challenging areas of a patient's mouth.
AI Scan 2.0 – scanning has never been this easy
With the new TRIOS AI Scan 2.0 algorithm, it is even easier to scan challenging parts of the jaw, such as the incisal edges of the front teeth or when soft tissue, like cheek and tongue, interferes with the scan. With the new AI, dentists have been able to reduce the average scan time by more than 11 % for all lower jaw cases, providing a smoother experience for you and your patients.
Even in cases where moving tissue covers more than half of the image, you can continue scanning and let AI Scan 2.0 do the magic. This improvement is truly designed to give you a seamless scan experience.
Additionally, AI Scan 2.0 will enable you to scan full edentulous arches easier than before. Use the edentulous intra oral scan workflow in the full edentulous indication or go to the 'Tools menu' on the scan page and select 'Edentulous scanning'.
More improvements:
Manual bite alignment – now fully guided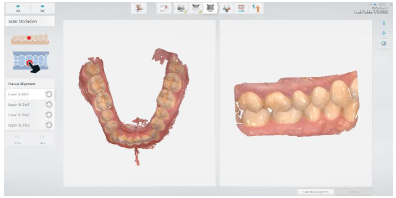 Aligning your scans manually is now easier than ever. The fully guided step-by-step workflow will take you through all the necessary steps for a perfect alignment. In case you need more guidance, press the "i" button in the top-right corner for more information.
Playback your scan – Evaluation of your scan made easier
The playback function is back! Evaluate your scan behavior, demonstrate to your peers and improve support quality.
Re-play the scan you just did for learning and demonstration purposes. You can also use it in case you run into problems during scanning. Simply connect to Support, show us the scan playback. This way we can better assist you in any scan challenge you may have. Find the playback function in the 'Tools' menu on the scan page.
Margin line editor – Improved user experience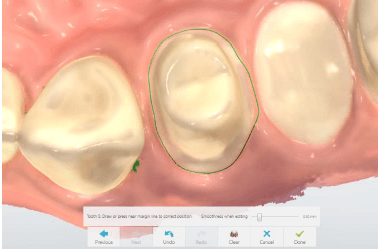 The margin line editor has been updated to make it easier and more user friendly to set and adapt the margin line around the preparation. Set the margin line automatically with a single click and quickly manually edit as needed by re-drawing parts of the line for potential corrections.
With the TRIOS 21.3 update, all TRIOS 3 Basic users (with retroactive effect) will be eligible to use Patient Specific Motion.
Solved issues
The following reported issues have been solved in this release:
An error was shown when navigating quickly from lower scan page to upper or vice-versa.
An error was given when the Shade Measurement feature on Analyze page was opened.
An error was shown while trying to clear the scan and when navigating between scan pages.
The error message "Scanner not connected" was shown if the scanner disconnects just before the calibration was started.
The blue contact color was missing when using switch view in the Clearance feature on the Analyze page.
Want to dig through previous updates and fixes of this software?
We've listed them all in one document for you.
KEEP LEARNING WITH 3SHAPE COMMUNITY
Library of tutorials:
Turning TRIOS system on and off


Patient management: Creating a patient, the type of treatment, the lab you will be working with


Scanning: Your scan strategy is key to getting an optimal scan. Make sure to practice scan strategies on yourself and colleagues, because practice makes perfect.


Communicate with the lab: After you have scanned the patient, now it is time to send the case including scans and the created order to the lab.


Maintenance: To ensure safety, long-time usage and continuous good scanning quality, please follow the maintenance procedures relevant for your model of TRIOS.
Do you own other 3Shape solutions?
Check out what's new in your software to get the most out of your digital dentistry solution.