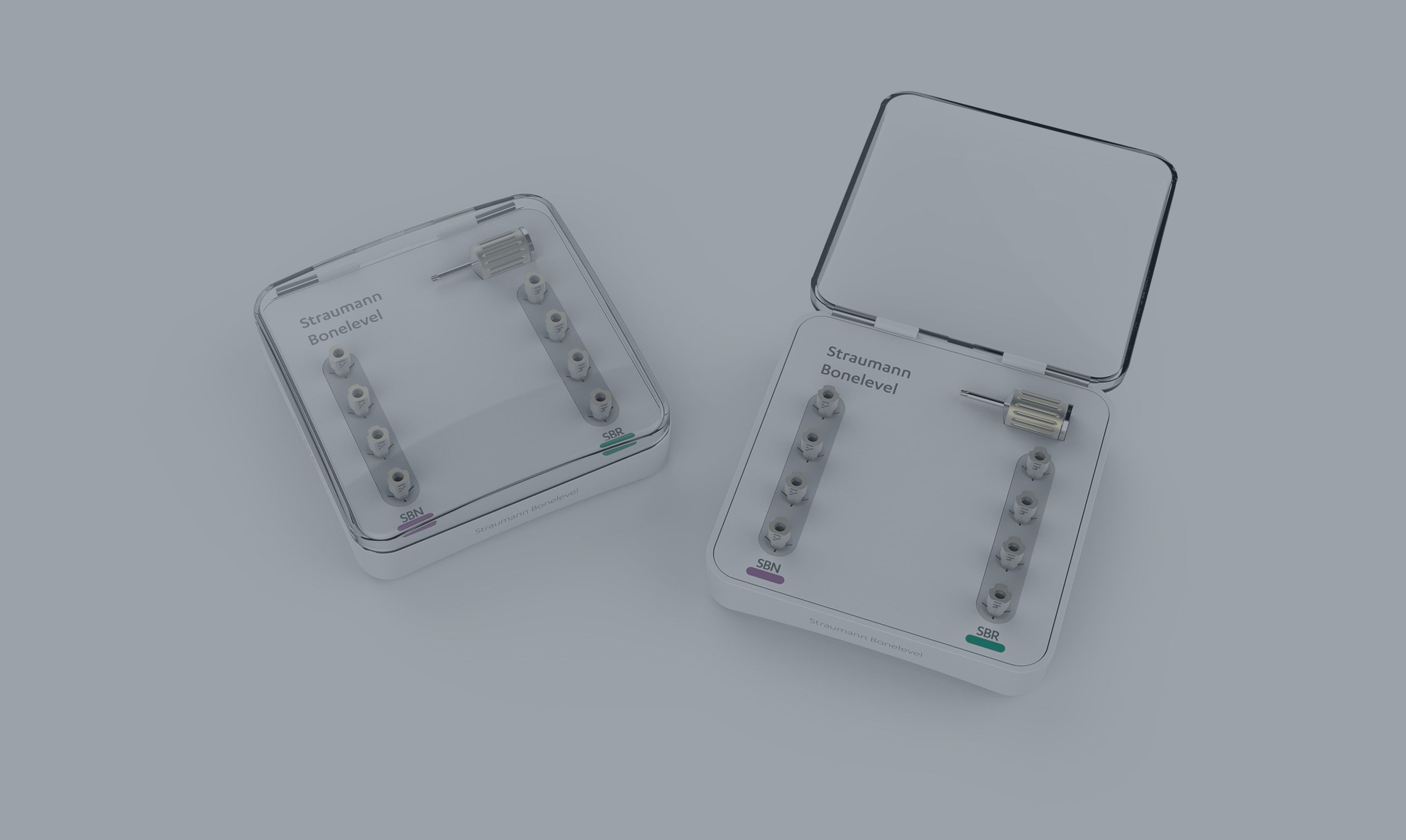 Implant scanning made easy
One thing is to take a digital implant impression instead of an analog one. Another is to use our intraoral scanner and scan bodies for it. It makes your digital implant workflow more efficient than ever.
Fast
Auto-recognition of implant system and connection*.
Easy
Use scan bodies with original and 3rd party libraries. 
Accurate
Titanium-made – autoclavable and visible in X-ray scans.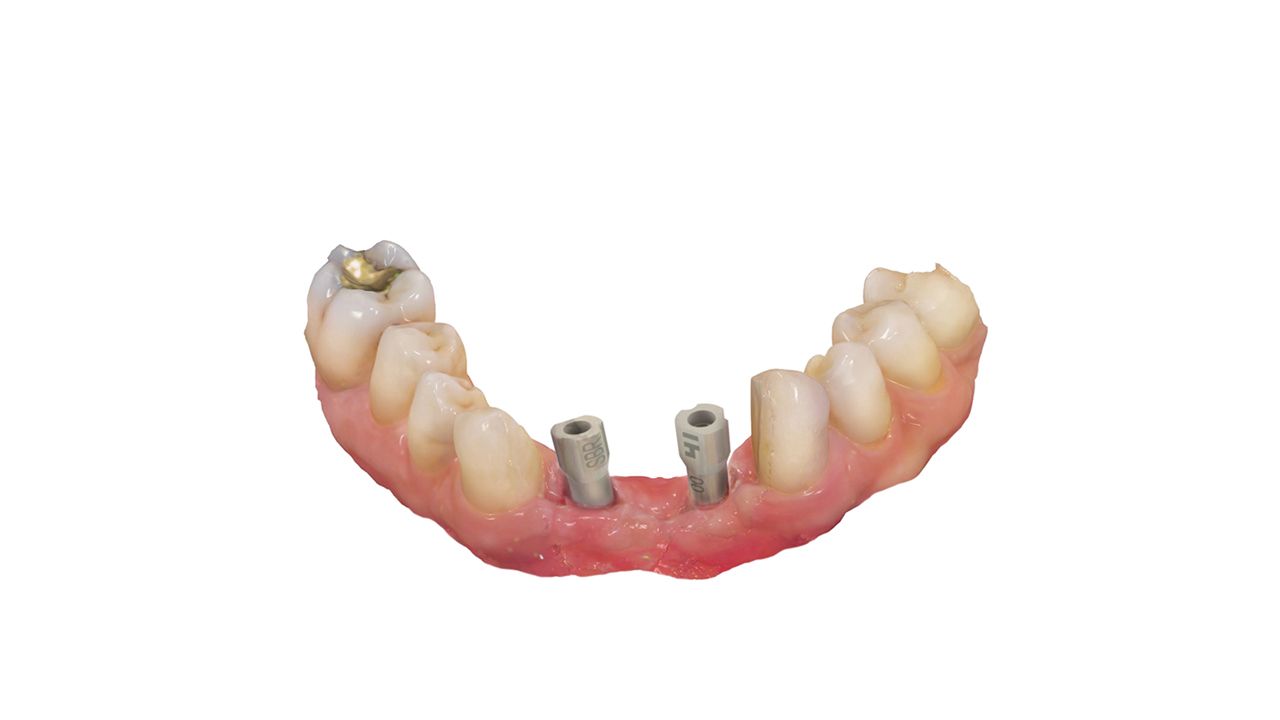 Fast and
easy
There is no better method to capture your implant position and angulation than with scan bodies or scan abutments. A quick post-surgery scan tells you everything you need to know. The benefit for dentists is that they get a quicker workflow because of a faster case setup. Lab collaboration becomes much easier, as the 3Shape scan bodies are included in original as well as 3rd party implant libraries. The lab freely chooses their library of choice and can get straight to work.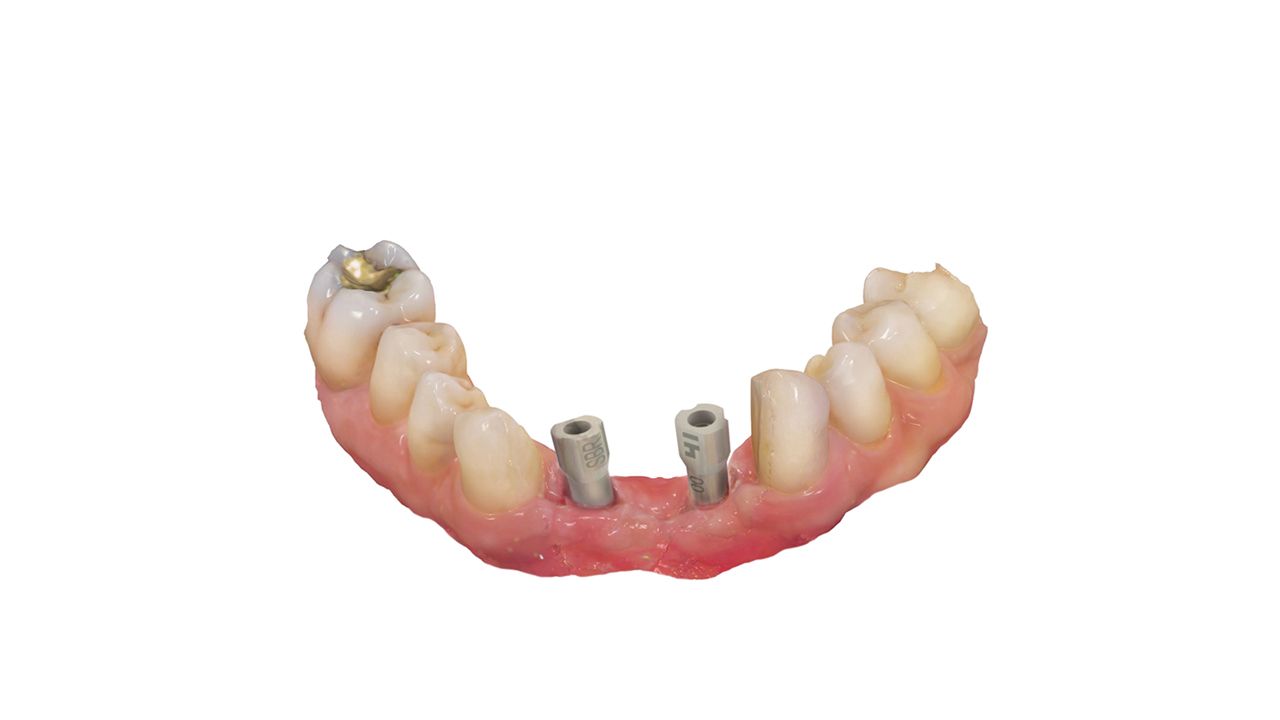 Digital implant scanning workflow
What is the typical workflow when scanning using our scan bodies instead of taking analog impressions using impression posts for your implantology cases? 
Secure the scan body
After the implant surgery, the matching scan body is secured to  the implant with a screwdriver. 3Shape scan bodies can be reused up to 100 times as they are made of durable titanium ensuring accuracy throughout their use.
Scan the 3Shape scan body
The TRIOS intraoral scanner automatically recognizes the implant system and connection through an embedded ID code.* The implant system and connection are fed into the TRIOS order form. 3Shape scan bodies are available for all
major implant systems
.
Send to lab
When all your data is captured, you send the order form via 3Shape Communicate. 3Shape scan bodies are included in original and 3rd party implant libraries. Because labs can freely choose a library, there is no more confusion around compatibility between scan bodies and libraries. They can get straight to work. 
Place restoration
After receiving the end product, you can place the restoration being confident that it will fit the implant to the millimeter. 
"Our workflow in [the implant impression] process now has changed dramatically, because things have become simpler, they've become faster, there's less stress involved and it's more predictable."
Dr. Peter Hunt
"The 3Shape scan bodies […] make it very easy for all of us. They're also very easy to capture. It makes the whole workflow go smoothly."
Mark Ferguson, Vulcan Dental
Compatibility
3Shape scan bodies can be used with any intraoral scanner but the auto-recognition of the implant system and connection is only applicable with the TRIOS scanner.
Material library
In order to work with intraoral scans containing scan bodies in the Lab environment, you need to have a material library for the implant system being used.
Scan body files 
Your library must contain a file for the scan body that you have used, in this case the 3Shape scan body. Library files containing 3Shape scan bodies are provided by the original manufacturers or 3rd party providers, not by 3Shape. 
Package
The scan bodies are sold as individual items or in basic kits, including a screw driver and two to five scan bodies with different connections depending on the implant system.
*Coming in 2020
Contact your reseller for availability of 3Shape products in your region or country.