Copenhagen, September 20, 2021 – 3Shape Automate – 3Shape's remote digital design service exclusively powered by artificial intelligence (AI), has added nightguard design to its services.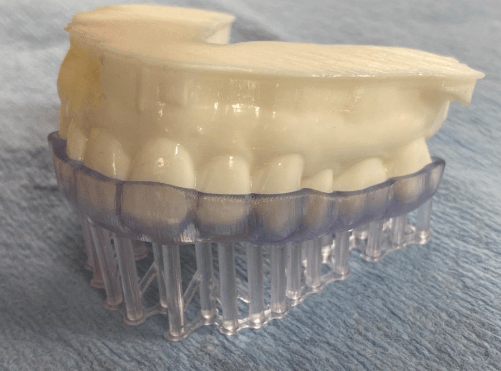 Dental professionals can now go direct to the 3Shape Automate website and order as many nightguard designs as they need and receive them back in as little as ten minutes. The entire Automate design workflow is done with AI and completely hands-free.
Since its launch in April this year, 3Shape Automate has delivered more than 200,000 AI crown designs to dental labs and has been nominated for a dental industry innovation award. The addition of AI nightguard design* now enables labs to cost-effectively add a very in-demand oral appliance to their own services.
"3Shape Automate has done it again! With the new addition of nightguard design, Automate really opens the door for labs to drive new business and rapidly scale their production. Working with Automate is all about speed, convenience, and predictability at your fingertips," says CEO of FullContour by 3Shape, Rob Laizure Jr.
Prices for the Automate nightguard designs start at as little as $9.99 USD. With scans accepted from any brand that outputs DCM, .STL, .PLY, and .OBJ, files. 3Shape LabCare customers receive a 10% discount on Automate services.
Price list
| | | | |
| --- | --- | --- | --- |
| Design Turnaround Time | 10 hours | 1 hour | 10 minutes |
| Regular Price | $9.99 | $14.99 | $29.99 |
3Shape LabCare customers receive a 10% discount on Automate services.
Validation with Keystone Industries resins
3Shape Automate, supported by FullContour, worked extensively with Keystone Industries and its line of resins to validate the nightguard designs. Keystone Industries' FDA approved KeySplint Soft and KeySplint Hard resins were used in the design testing. 3Shape Automate nightguard design files are open to most 3D printers and resins.
Keystone Industries President of Dental, Ira Rosenau, says, "Night guards are essential protection for a patient's teeth and implants, and the Automate platform along with our game-changing 3D print resins will accelerate dental professional access to digitally precise and FDA cleared splint therapies for patients."
Joint webinar
The two companies will hold a joint webinar on Thursday, September 23, 2021, 9am PST/12pm EST. The webinar will discuss details about 3Shape Automate Nightguards and KeyPrint Precision 3D Resins and how labs can cost-effectively scale production.