Copenhagen, April 1, 2019 – 3Shape, a global leader in 3D scanners and CAD/CAM software solutions, has received two Red Dot awards - the international distinction for high design quality. The two design awards were presented to the just-released 3Shape TRIOS 4 intraoral scanner and the TRIOS MOVE+.

The 3Shape solutions were selected by the Red Dot global jury from more than 5,500 entrees. The distinction now marks the fifth and sixth 3Shape solution given a Red Dot product design award over the past three years.

"We are very proud to receive the Red Dot awards and appreciate the jury's recognition. The awards not only highlight the value of our solutions, they also celebrate our company's design philosophy. 3Shape creates solutions to enable dental professionals to better care for their patients. But an important part of that is making sure that the form and function of our solutions is equally outstanding. The Red Dot awards acknowledge this," says Nikolaj Deichmann, 3Shape Co-Founder and Co-CEO.


3Shape TRIOS 4 intraoral scanner: Red Dot product design winner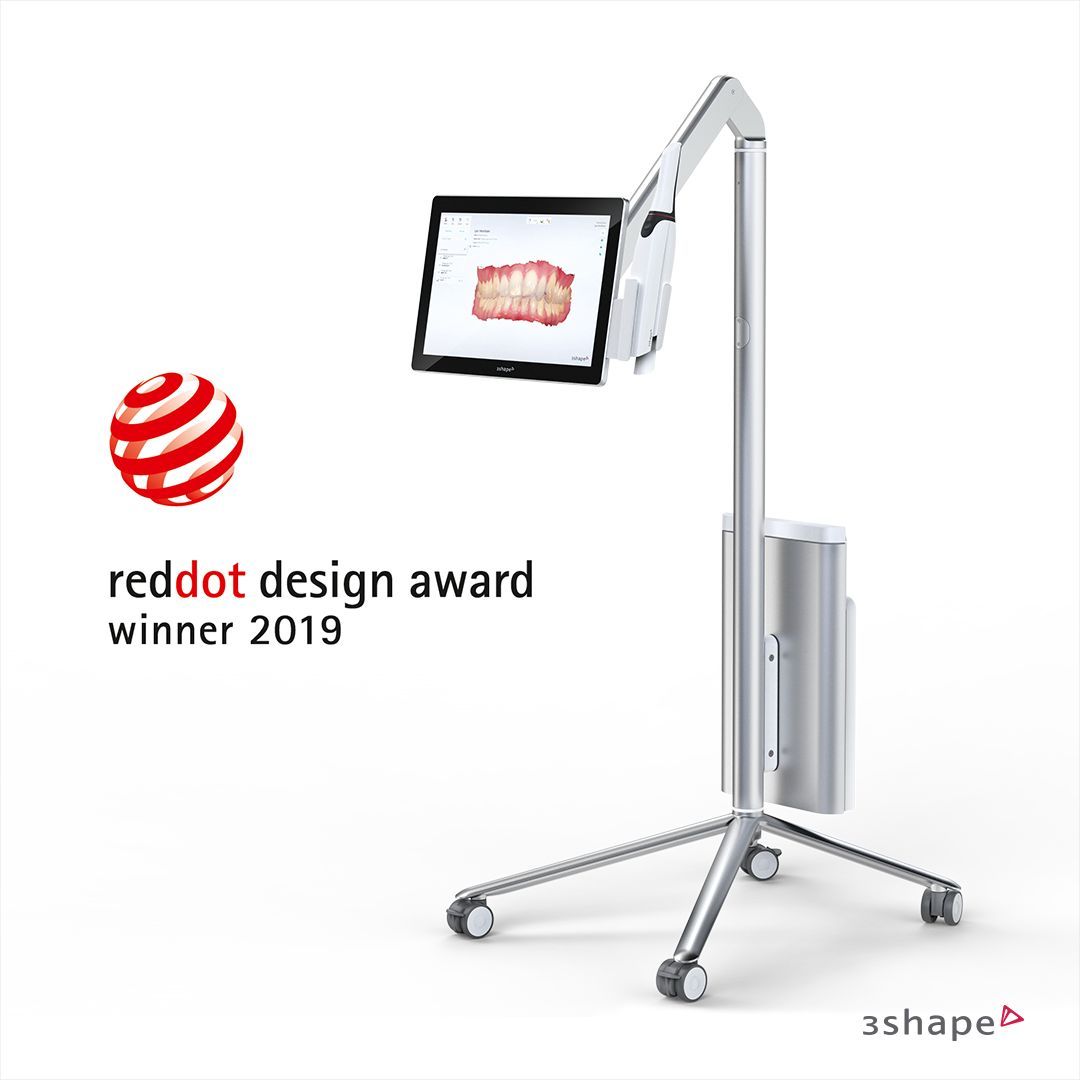 3Shape TRIOS 4 is the world's first intraoral scanner with timely detection aid of both possible surface and interproximal caries in a single scanner. Now with the release of the brand-new TRIOS 4, intraoral scanners will no longer be used only for restorative and orthodontic applications. TRIOS 4 can aid in the early-detection of surface caries as well as including a transillumination smart tip that can identify possible interproximal caries: diagnostic applications that do not emit radiation.* The wireless TRIOS 4 delivers its groundbreaking caries innovation with no compromise to ergonomics or increase in the size and weight of the scanner.
3Shape TRIOS MOVE+: Red Dot product design winner
3Shape TRIOS MOVE+ is one of three hardware setup options for the TRIOS intraoral scanner. TRIOS MOVE+ now features a larger 15.6" touchscreen attached to an arm and elegant, easy-to-move stand with a mounted PC. Dentists can easily move and position the TRIOS MOVE+ as well as use its touchscreen as a canvas to design and discuss treatments with patients. TRIOS MOVE+ helps to drive patient involvement and case acceptance in conjunction with 3Shape Excitement Apps like TRIOS Treatment Simulator and TRIOS Smile Design.
About the Red Dot Award
Red Dot is seen as the award for high design quality. Only products which set themselves apart considerably through their excellent design receive the sought-after quality seal from the international Red Dot jury. The Red Dot Award is one of the world's largest international product competitions. Founded in 1955, the Red Dot Award is organized by the Design Zentrum Nordrhein Westfalen in Essen, Germany.
*Caries detection aid is pending CE-marked and expected available in the EU June 2019. Availability in Australia and Canada expected July - August. USA in October 2019. For other markets, please contact your reseller for availability.
The transillumination smart tip is pending CE-marked and expected available in the EU December 2019. Availability for the US market expected in Q2-2020. For other markets, please contact your reseller for availability.