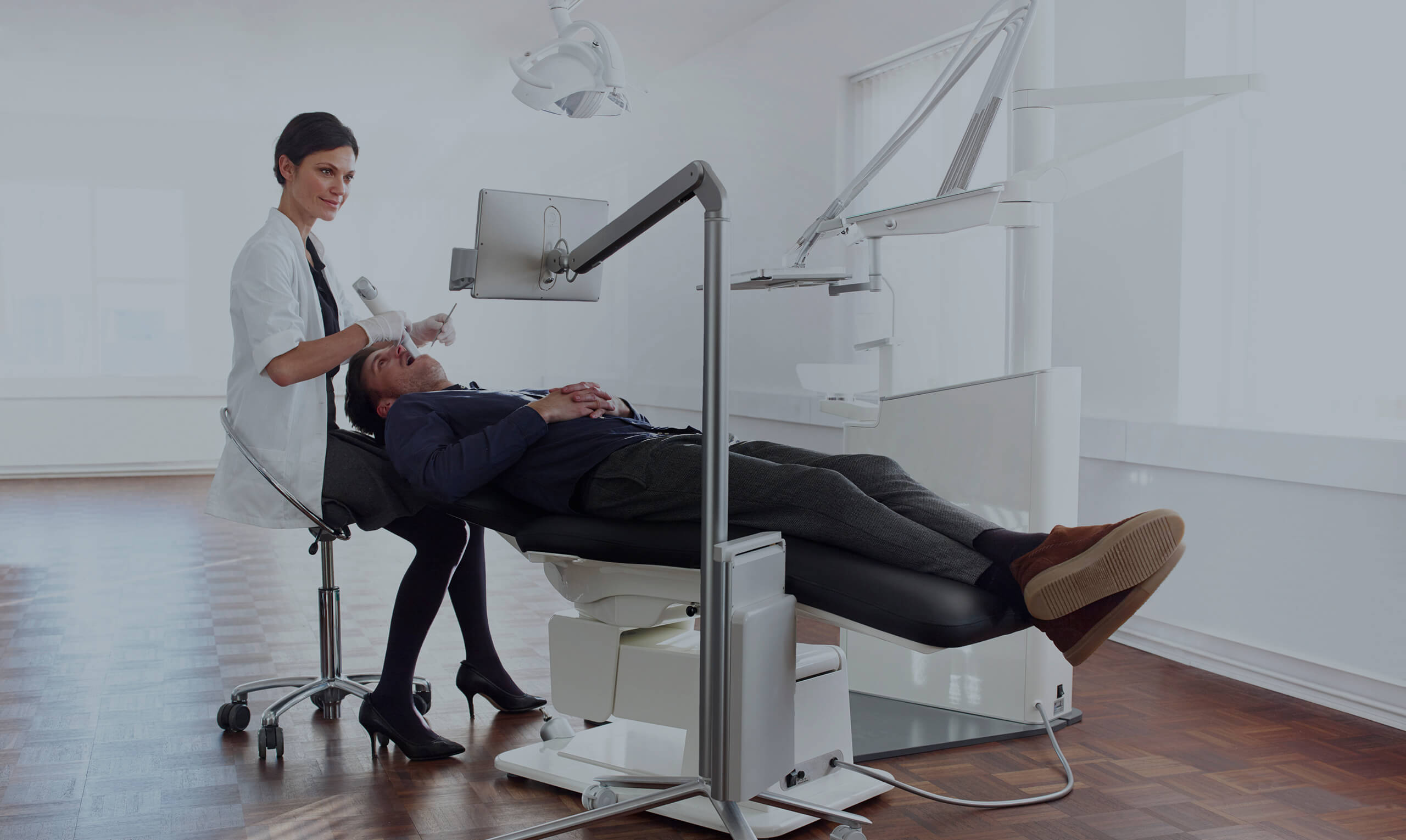 The TRIOS setup for ultimate patient engagement 
Visualizing on screen is great. But having your screen positioned in the wrong angle can be unpractical for you and the patient. 3Shape TRIOS MOVE+ is an intraoral scanning setup that ensures placement is always spot on.
Touch screen
Navigate directly on the LCD touch screen, available in two sizes.
Adjustable arm
Maneuver the arm and swivel screen right where you need it.
PC included
Comes with a powerful PC, designed for fast and smooth scanning with TRIOS.
Show scans easily, boost involvement
One of the challenges of working with intraoral scans is in organizing the physical space: how to position your screen in the right place to not only prepare and scan but also share your work? To help you solve this, we developed TRIOS MOVE+. It allows you to move your screen with digital scans, images, and simulated expected treatment outcomes to where the patient sits. This helps them picture their final results and ultimately, advance case acceptance. On top of that, it is more ergonomical for dentists. 
More on TRIOS

The TRIOS MOVE+ setup solution comes with a 15.6" size screen, a stylus touch pen and a powerful 1TB PC specially designed for scanning. A USB 2.0 port on the backside of the screen lets you import and export your scans. The TRIOS MOVE+ can be purchased in combination with TRIOS 3 Basic, TRIOS 3 and TRIOS 4.
TRIOS MOVE+
Screen: larger 15.6" Full HD touch screen, giving you a 36 % larger working area
USB 2.0 port on the back side of your screen for import and export of your scans
"MOVE is visualization, communication and it's treatment planning on a whole new level. With MOVE I can see that the case acceptance gets higher."
Niklas Kreutzmann, Dentist 
With our patient excitement apps* it gets even easier to bring teeth development and treatment plans up-close. 
TRIOS Patient Monitoring
Compare a patient's scans between different visits to monitor developments in their dental status.
Smile Design
Simply take a photo of your patient's face, easily design their new beautiful smile in minutes and share it with your patient. 
TRIOS Treatment Simulator
Scan your patient and show their present dentition compared to the simulated results of orthodontic treatment to gain case approval. 
Ask your reseller regarding availability of 3Shape products in your region.