TRIOS Design Studio — Software updates
What's new: improvement and changes
TRIOS Design Studio
2021.2
3Shape TRIOS Design Studio 2021.2 introduces a new AI 2.0 design proposal. The new AI is available for all restoration types, for both anterior and posterior teeth. The new release offers an improved AI crown proposal and new AI design proposals for inlay, onlay, veneers and screw-retained crowns.
Highlights
NEW AI design for all restoration types
AI design proposal is now available for anatomical crowns, inlays, screw-retained crowns, and virtual crowns in the implant planning workflow.
Note that to get the AI design proposal, you need to be connected to the Communicate account. As for now, the AI proposal is available only for restorations that have one neighboring tooth on the scan.
Crown proposal generated by AI 2.0
Onlay proposal generated by AI 2.0
NEW

Improved milling quality
The new edge design protection settings are now enabled by default. If you are using custom materials for your STL output, please make sure that Edge protection checkmark is enabled.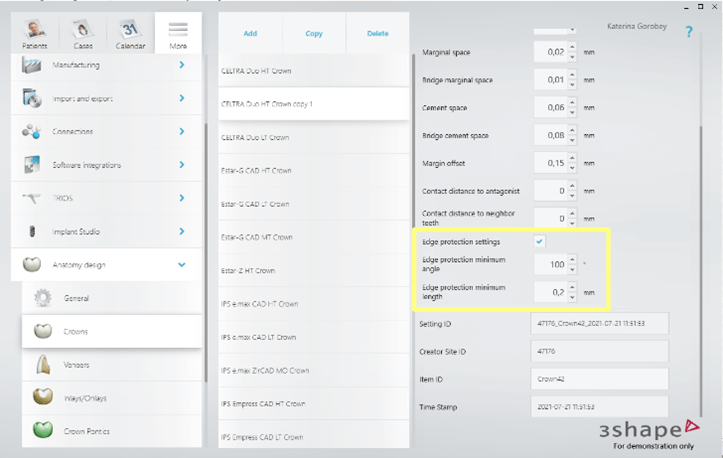 Want to dig through previous updates and fixes of this software?
We've listed them all in one document for you.
KEEP LEARNING WITH 3SHAPE COMMUNITY
Library of tutorials:
3Shape TRIOS Design Studio Fundamentals: Learn everything that you need to get started using your TRIOS Design Studio.


Setup and administration: Here you can find information on how to install and configure a selection of milling machines for in-house production.


Prosthetic treatments: From single unit restorations, through 3-unit bridges, all the way to screw retained crowns, TRIOS Design Studio enables you to design and produce a wide range of restorations in-house.
Do you own other 3Shape solutions?
Check out what's new in your software to get the most out of your digital dentistry solution.