Implant Studio — Software updates
What's new: improvement and changes
3Shape Implant Studio
2021.2

:
Now supporting both static and dynamic guided implant surgery
3Shape Implant Studio 2021.2, the latest release of our Implant Studio software, now comes with an integration to the dynamic surgery system X-Guide, from X-Nav Technologies.
The integration enables you to output, with the click of a button (see image), your prosthetically driven implant planning directly from Implant Studio to X-Guide for dynamic guided implant surgery.
NEW X-Guide integration: more options for surgery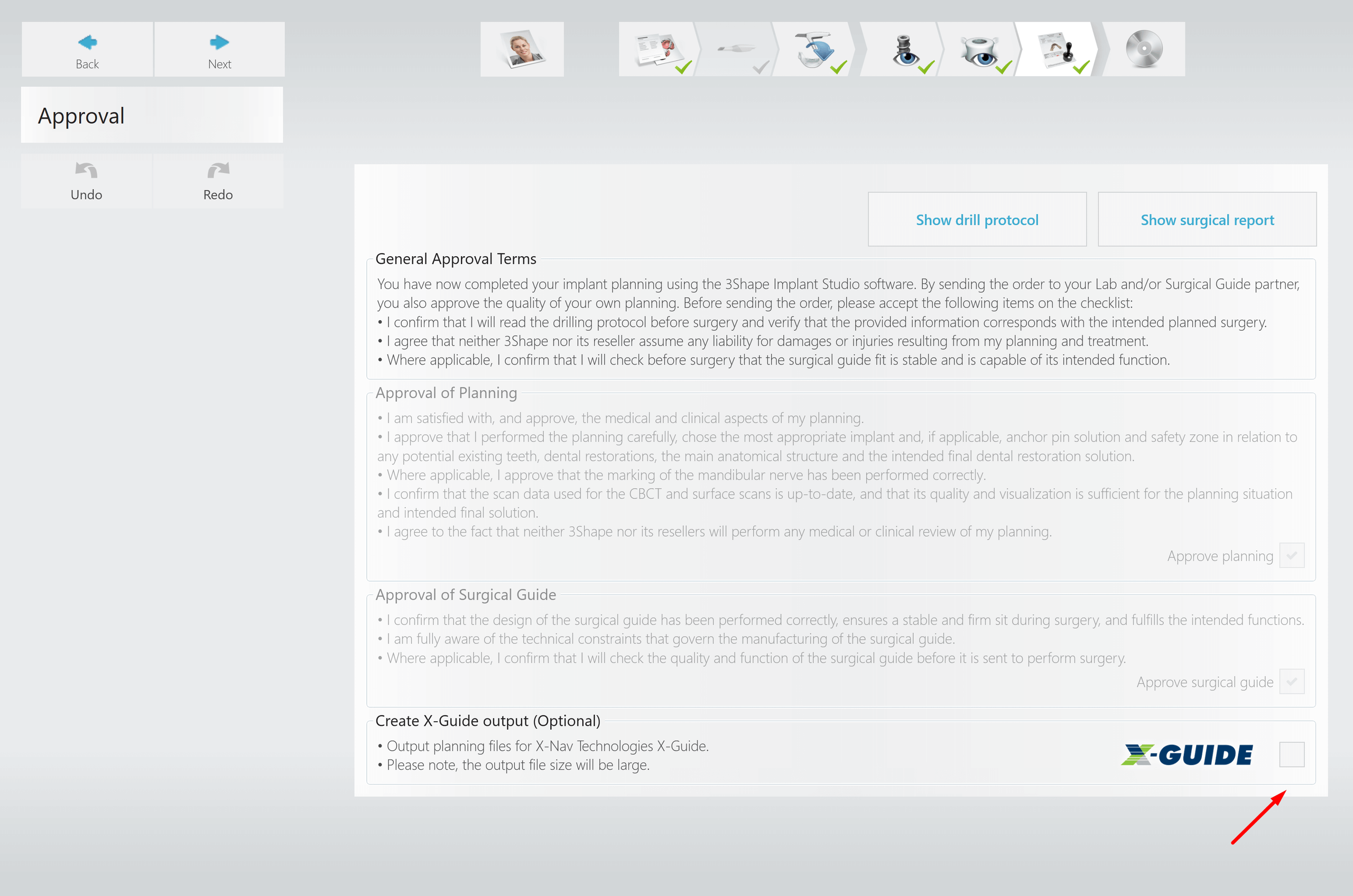 Implant Studio and the X-Guide integration gives you more options for streamlining your implant workflow, and making implant procedures simpler.
With Implant Studio, you can now choose between dynamic guided surgery with X-Nav Technologies and static guided surgery with surgical guides designed in Implant Studio and printed from a wide range of 3D printers.
LEARNING RESOURCES ON THE 3SHAPE COMMUNITY
The 3Shape Community provides a library of tutorials for using our software. For Implant Studio, we have the following resources to help you better understand the software and workflows.
Fundamentals training
Implant Studio is an open and flexible system. This means you can choose to plan your implant positions, design and produce your own surgical guides, or choose to only perform some of the workflow steps and instead, outsource to partners. The Fundamentals training section demonstrates the entire workflow and how you can seamlessly send workflow steps to partners.
Setup and administration help
The setup and administration section goes through the basic steps that need to be taken to work with the software. It walks you through the importing of implant libraries, setting up your favorite libraries, and setting up your 3Shape Communicate account.
Treatments section
The treatments section provides an overview of the treatments possible: from single implants to full edentulous rehabilitations. Implant Studio enables you to plan and design a wide range of treatments, in-house, by collaborating with a laboratory, or using a Design service and integrated partners, like X Nav.