Splint Studio — Software updates
What's new: improvement and changes
3Shape Splint Studio 2020.3 is the first version targeted use in dental clinics as well as dental labs, bringing TRIOS-integration, workflow improvement and a full coverage hint system. It is being delivered with a full new training package including how-to guides on common splint types.
NEW TRIOS workflow integration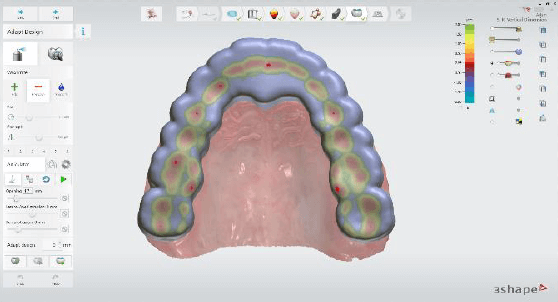 It is now a seamless experience to scan with the TRIOS and go directly into the splint design steps. The software will post-process scans in the background when needed. The software is also compatible with our lab-scans and generic stl-files.
NEW Hint and notification system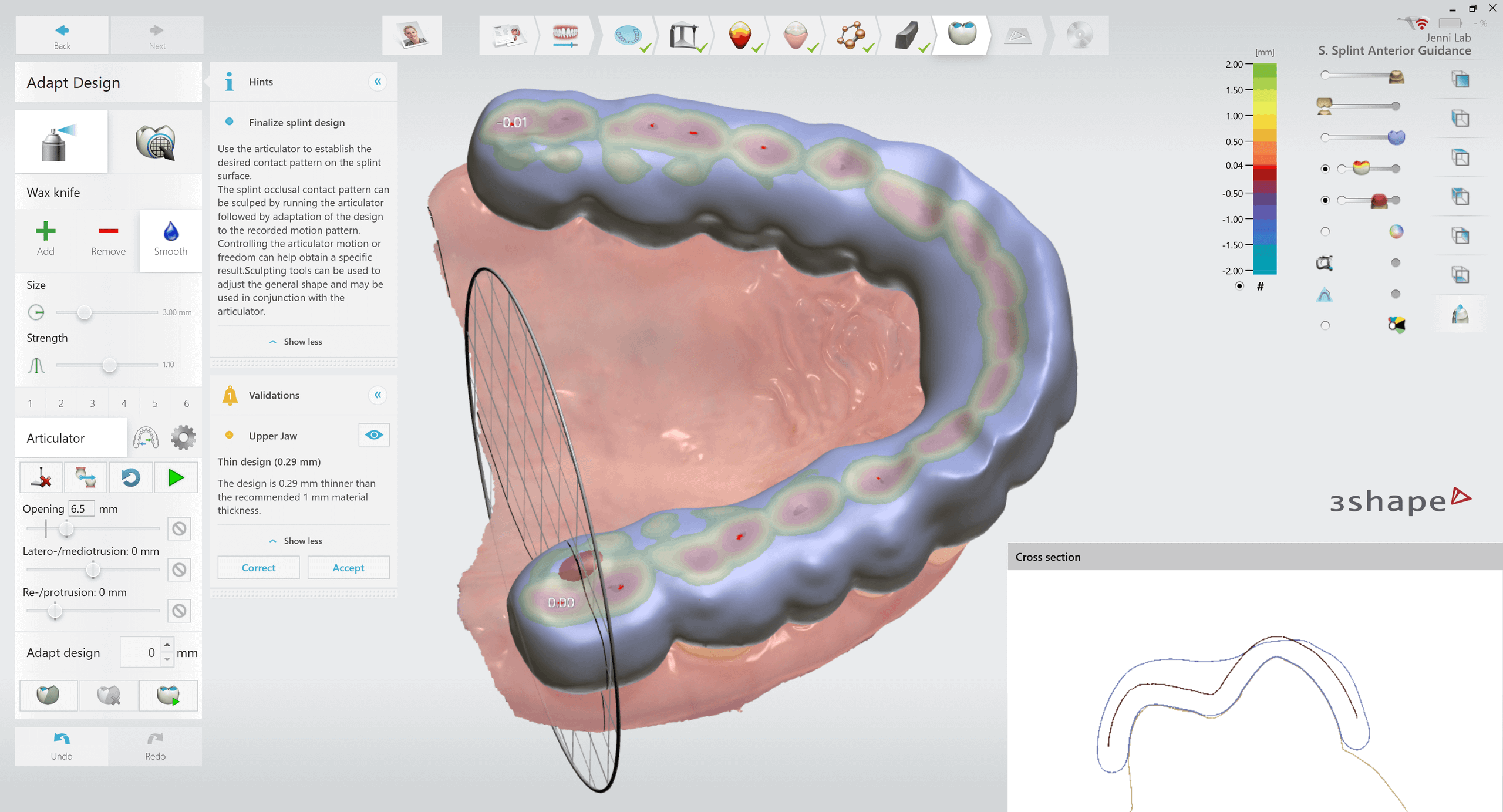 Splint Studio 2020.3 includes a new hint and notification system that covers the full workflow. The system gives guidance on the workflow, identifies design-related issues, and offers suggestions how to solve them. Meaning Splint Studio is ready to help the user achieve their desired splint design with easy-to-follow tips. User can close hints and notifications based on their preferences. Once a hint is closed, the particular hint will not be shown again, and notifications can be disabled anytime when not needed anymore.

NEW New machine and material system and selector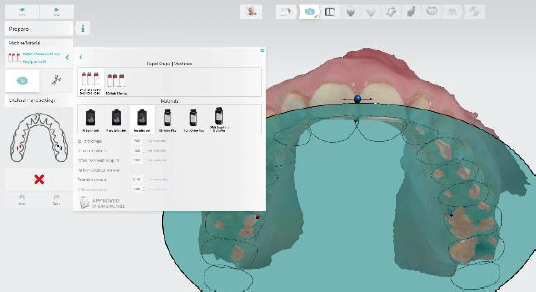 The machine and material handling has redesigned, making it easier to find the right machine and material as well as discover the level of testing this combination have been through for this indication. Please note, that US versions of Splint Studio will only allow machine/material combination that have been approved by the original manufacturer.
Several UI improvements and clarifications
Resolved issues
Splint were sometimes generated with transition artifact between different raised areas
Bugfixes
Patches
| | | |
| --- | --- | --- |
| Release |  Date | Comments  |
|  Splint Studio 2020.3.0  |  August 2020 |  First release targeted clinics and labs |
|  Splint Studio 2021.1.0 |  March 2021 | Performance and bug fixes |
|  Splint Studio 2021.1.1 |  April 2021 |  Performance and stability |
KEEP LEARNING WITH 3SHAPE COMMUNITY
Library of tutorials:
Fundamentals training: Designing splint can be based on a digital impression if you're using a TRIOS intraoral scanner. There's also an option to digitize an impression or gypsum model that was sent to a lab. If you need a refresher on how to use a TRIOS scanner go to the TRIOS Fundamental training.


Treatments: In this section you can learn about the workflow for stabilization splint with anterior guidance for the upper jaw. Each of the videos below explains in detail each step of the workflow. To get an overview of the whole workflow, go through all the videos.
Do you own other 3Shape solutions?
Check out what's new in your software to get the most out of your digital dentistry solution.