Copenhagen, February 23, 2022 – 3Shape to introduce its brand-new Model Maker app, Dental Practice Management Software integrations, and 3Shape Automate innovation at LAB DAY 2022.
3Shape Senior Vice President of Product Strategy, Rune Fisker, will present the three new solutions and more during his LAB DAY opening press conference on February 24 at 9.30AM CST – booth J-16 K-17.
What is Model Maker?
Model Maker enables both 3Shape TRIOS intraoral scanner and 3Shape Studio apps users to instantly convert digital impressions into dental models. Model Maker's automated workflow is powered by AI and cloud technology. And converts TRIOS scans to models in just minutes. The app is free and included with 3Shape TRIOS and TRIOS Design Studio, Splint Studio, and Implant Studio.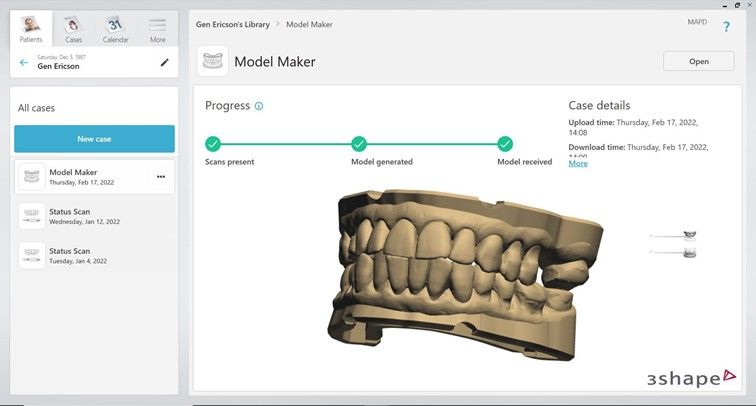 Model Maker includes:
Automatic hollowing - optimizes resin use*
'Drain holes' ensures a good printing experience*
'Bevels' added to base structure to ensure models can be removed easily from the build platform.
Model Maker is available in Europe as of today. The US and world – February 28.
Read more about Model Maker.
Dental Practice Management Software integrations
The 3Shape Unite platform now integrates with Dental Practice Management Software. Dental professionals can setup their practice management integrations via the Unite Store. The integration enables professionals to automate their patient management via Unite and avoid workflow manual errors like filling in forms twice, save steps, and even open Unite directly from the practice management system for faster, more efficient workflows.
3Shape Automate - AI powered design platform for crowns & nightguards
Since launch, 3Shape Automate has delivered over 400,000 designs at a 90% acceptance rate to dental professionals. The AI powered 24/7 self-service design service provides dental designs for crowns and nightguards. Geared to dental lab technicians needing to cope with rush periods and overflow orders, 3Shape Automate is a completely automated service. Dental technicians simply provide their material, manufacturing, and contacts and occlusion preferences and Automate sends back a dental design in as little as five minutes - created entirely by AI technology. The technician can accept the design, edit it in 3Shape Dental System, or instead, decline the design at no cost.