Copenhagen, February 22, 2018 – To drive patient engagement and excitement, 3Shape launches new hardware setup for its award-winning 3Shape TRIOS intraoral scanner: 3Shape TRIOS MOVE.
1) 3Shape TRIOS® MOVE
The brand-new hardware setup places the 3Shape TRIOS scanner, monitor and PC on the lightweight, fully-adjustable, ergonomic 3Shape TRIOS MOVE. 3Shape TRIOS MOVE mobility enables doctors to always position the screen in the right place to provide a superior experience for both dentist and patient. 3Shape TRIOS MOVE is perfectly-balanced and can be rolled effortlessly from operatory to operatory.
"Dentists are always telling us how thrilled their patients are to see their digital impressions onscreen. We created 3Shape TRIOS MOVE, the ultimate scanning and communications tool, to give professionals a simple and exciting way to share dynamic treatment information close-up with patients and advance treatment dialogue and acceptance," says Tais Clausen, 3Shape Co-Founder and Co-CEO.
Doctors already owning a 3Shape TRIOS 3 intraoral scanner can purchase setup separately, which includes the PC and monitor. The doctor can then plug their own TRIOS scanner into the unit. The portfolio of 3Shape TRIOS intraoral scanner hardware-setups now include, the 3Shape TRIOS Pod, TRIOS Cart, and TRIOS MOVE.
3Shape TRIOS MOVE is available as of May 3, 2018 and can be ordered now from our distribution partners.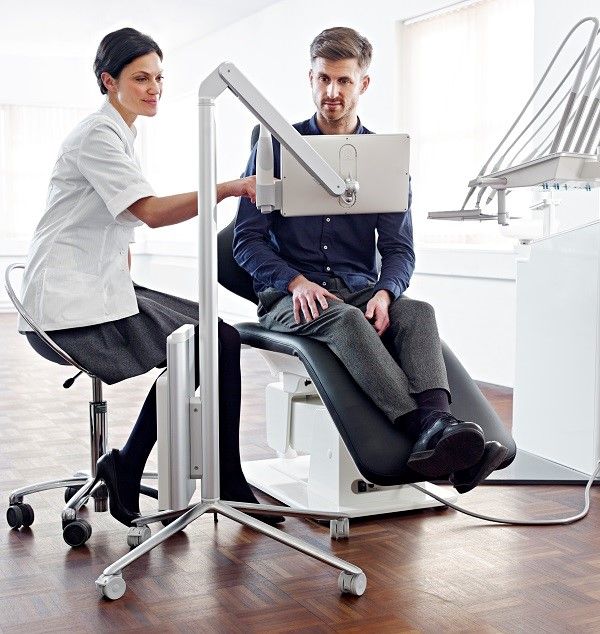 2) Excite patients with 3Shape TRIOS apps
Professionals can take advantage of a fast-growing portfolio of apps to get their patients excited and engaged while providing insight into their dental health and proposed treatment plans.
3Shape TRIOS Patient Monitoring*
Enables dentists to compare patient scans between visits to monitor changes in their dental status and identify a timely and effective care plan. Insights are sharable with patients to gain treatment acceptance.
3Shape TRIOS Smile Design
Simply take a photo of a patient's face and easily create new beautiful teeth in minutes. Share the photo-realistic image with patients to excite them and advance treatment acceptance.
3Shape TRIOS Treatment Simulator*

Scan patients and show them their present dentition compared to the simulated results of orthodontic treatment to drive case approval.
My3Shape – patient app*
Dentists can now share their 3Shape TRIOS intraoral scans with patients. Patients can download the My3Shape iPhone app and securely see their own scans and discuss treatment options with family and friends at their own leisure.
3) 3Shape Online Community
We launch brand-new professional online community for 3Shape TRIOS dentists and labs. The 3Shape Community provides a platform for professionals to expand their knowledge and network with digital dentistry colleagues from around the globe. Community membership is free as part of 3Shape owners' CliniCare and LabCare packages.
The 3Shape Community will offer four focused forums geared specifically to 3Shape solution owners: Discussions – about CAD/CAM dentistry; Training – featuring training materials and case studies; Showcasing – for sharing work and feedback, and Inspiration – aimed at industry trends and opinion leader pieces.
*Coming soon – for availability, please contact your reseller.