Last week 3Shape launched 3Shape Automate – the world's first AI-powered dental design service platform for dental labs.
Hosted on the 3Shape website, dental lab technicians simply setup an unlimited number of design orders with their customized instructions and upload their scans to the design service.
Automate's AI technology then returns every dental design proposal in as little as five minutes – regardless of the number of designs ordered. You only pay for the designs that you approve and download.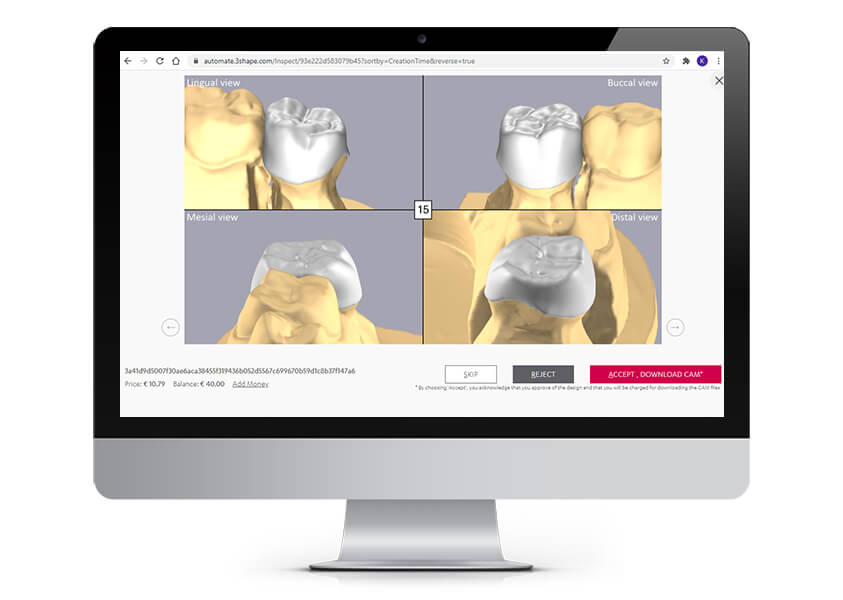 3Shape CEO, Jakob Just-Bomholt talking about the ground-breaking new service said, "AI technology is revolutionizing the world. At 3Shape, we began applying AI two years ago to make intraoral scanning with TRIOS effortless. We then used it with our dental software to make workflows much more efficient. Now with the launch of 3Shape Automate, dentistry takes a huge leap forward. It's simply, a game changer!"
In an interview with Dentistry Today, Karl Hollenbeck, 3Shape's head of the 3Shape AutodontiX business unit, a division dedicated to AI technology within dentistry and the mad scientist behind Automate, was asked about what he felt the biggest advantage of Automate was for labs.
In the story,Hollenbeck says, "There are three very big advantages: speed, consistency, and scalability. But for me, I think that the greatest advantage Automate gives labs is scalability.
Most labs experience rush periods or have times when they need to cope with an overflow of orders. Maybe a designer is out sick or on vacation, Automate instantly reduces any need for overtime or stress for your technicians. You simply fill the gap by taking advantage of Automate for your basic restorative design needs, choose a delivery time and bam, you are ready for production.
Think about how much more cost-effective your manufacturing processes can be. Your lab's blank management is much more efficient because you collect cases and simply match them with the right blanks.
And remember, because Automate is AI driven and hands-free, you can upload an unlimited amount… 100's of cases, to the platform, and still choose your deliver time for five minutes. They will be ready when you are.
For me, scalability is really the name of the game. Automate gives you instant scalability, production-wise, and in managing your lab."
How to get started
Labs can try Automate for free with a USD 50-dollar (€40) credit to see how it works. The self service is available 24/7 from the 3Shape website.
Automate is currently available for monolithic, single posterior crowns - premolars and molars.
An open platform
3Shape Senior Vice President for product strategy, Rune Fisker, talks about Automate and its benefits for labs. "More and more dental workflows are going digital. Because of this, we felt that labs could really benefit from an easy-to-use self-service design service to supplement their caseloads. A service that could support them with, for example, a posterior CAD crown design, when they're in a jam and don't want to work overtime or search for an extra designer.
Because Automate is AI-driven, labs can take advantage of it twenty-four hours a day, seven days a week.
Importantly, Automate is also an open platform, so technicians using 3Shape Dental System, Exocad, or even select scanners, can send their files to Automate and get a design file back in as little as five minutes. Although, 3Shape LabCare subscribers do get a 10% discount on the service.
It is really about making life easier for labs."