The E4 lab scanner has been very popular with technicians looking to either trade-up an old 3Shape scanner or add more capacity to their labs. Sunrise Dental Laboratory, Lab Owner, John Wilson says" the new E4 scanner is hands down the most convenient, intuitive and fastest unit we have ever used. If your lab is ready to upgrade, I cannot recommend this scanner enough – 3Shape does it again!"
We recommend for labs looking to scale their service-offerings to upgrade to Dental System Complete Restorative which gives labs access to all 3Shape's restorative lab workflows. Professionals should speak with their respective resellers for details.
NEW 3Shape Dental System 2020
At LabDay, we launched the latest version of the 3Shape Dental System 2020. The choice of labs around the world, 3Shape Dental System 2020 delivers efficient and optimized workflows for the most profitable and in-demand services such as dentures, clear aligners, splints and more.
Highlights for Dental System 2020 include: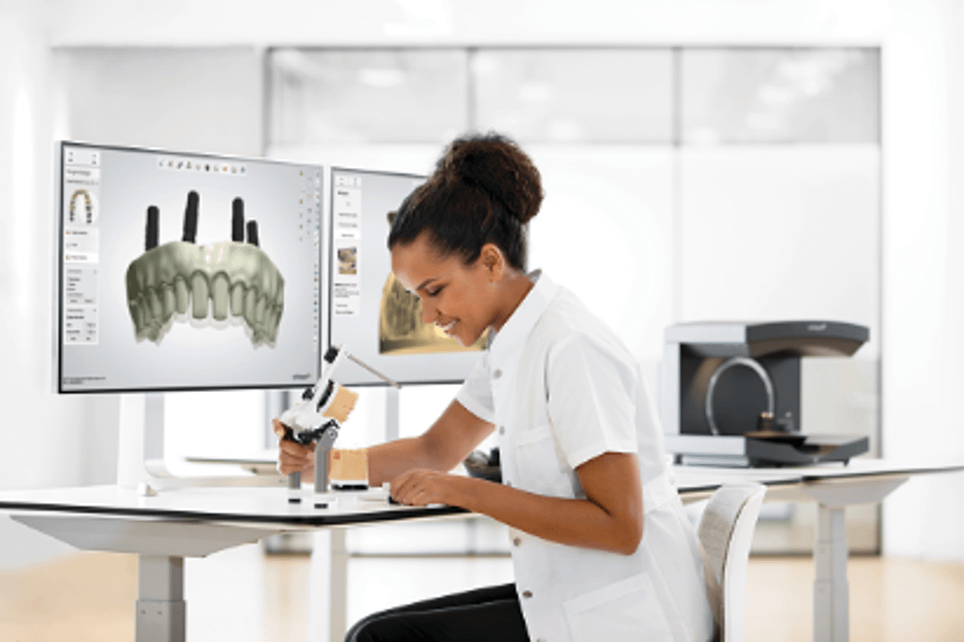 A significantly improved denture design workflow including enhanced gingiva design and the full integration of Ivoclar Vivadent Ivotion Denture System into Dental System 2020, giving access to patented workflows and milling process with the new monolithic Ivotion disc.
Dental System 2020's new all-in-one implant bridge workflow that enables the design of highly esthetic and functional full anatomical bridges.
Integration with major Lab Management Systems to automatically transfer case information between 3Shape Dental System 2020 and Lab management systems – exclusive to 3Shape.
More flexibility with better scan handling, improved Model Builder workflow combined with software optimizations to deliver our best and most stable Dental System release ever.
3Shape Splint Studio now available in the United States
The extremely fast and intuitive workflow enables labs to quickly design and produce all major single-jaw occlusal splint types in just a few clicks. Back in December 2019, our splint design software used in Splint Studio received FDA 510(k) market clearance in the USA. Read more about it here.
3Shape, FullContour, and Argen introduce first lab-dedicated clear aligner workflow
3Shape, FullContour, and Argen have launched a new lab-dedicated seamless clear aligner workflow. All labs can now offer doctors competitive clear aligners. Labs using 3Shape can outsource the full workflow to industry-leading experts at the design service provider, FullContour and manufacturer, Argen. The lab is driven workflow gives doctors full control over the order, review, and treatment proposal approval using 3Shape's brand new cloud-based Treatment Review portal. Labs can start delivering clear aligners to their doctors with no need for deep ortho knowledge or a 510(K).