The award-winning TRIOS MOVE has gotten a major update. The brand-new TRIOS MOVE+ now has a 15.6" touchscreen. Dentists can position the larger screen just as easily as before to share TRIOS intraoral scans with patients and acts as a canvas to design and discuss treatment plans.

The screen and arm are attached to an elegant, easy-to-move stand with a PC that delivers fast and smooth scanning technology. The MOVE+ also features an integrated USB port for the convenient import and export of scans.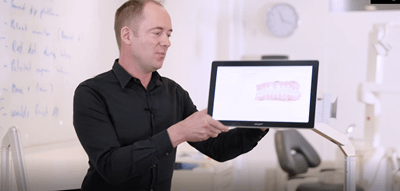 The iconic, minimalist design is complemented by graceful details like subtle curves and premium, brushed aluminum that reflect the MOVE+'s Danish DNA.

The MOVE+ is designed to drive patient involvement and case acceptance in conjunction with 3Shape Excitement Apps including TRIOS Treatment Simulator and TRIOS Smile Design.

"When we visited clinics, we found other systems to be bulky and heavy, and really not ergonomic. We really wanted to bring the screen in front of the dentist and the patient, where you need it, and to also create a beautiful, light design icon that represents the new way of working," says Eskild Hansen, 3Shape chief designer.