TRIOS intraoral scanner users can export STL files directly from their TRIOS Dental Desktop software dashboard. The export option will be included in the upcoming Q4 update of the 3Shape Dental Desktop software platform – to be used for managing your TRIOS.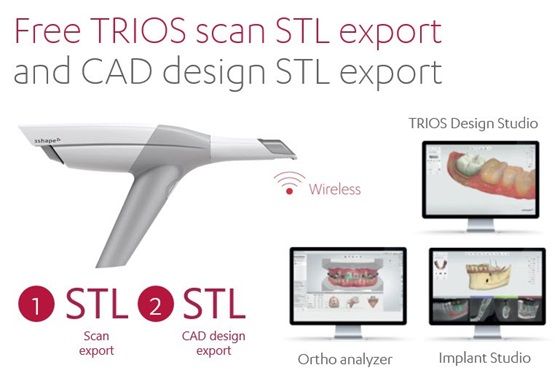 TRIOS users can use STL files to seamlessly work with in-house software and send STL digital impressions to dental laboratories and appliance-makers.
Up until now, TRIOS produced DCM files. This is because DCM files contain all the information/data unique to the TRIOS intraoral scanner like shade measurement, HD photos, color imaging, margin line, annotations, and patient data along with its color digital impressions. It is important to note that exported STL files from TRIOS in the new update will not contain any data exclusive to TRIOS, data such as shade measurement, color images and margin line, etc.
3Shape is spearheading more openness in digital dentistry. By driving integrations with the widest selection of restorative labs, implant manufacturers, orthodontic treatment providers, milling systems and 3D printer-makers, practice management systems, 3Shape now provides a totally open ecosystem for dental professionals.
3Shape presently delivers STL CAD design file export from its design software. Open STL CAD design file export means professionals can manufacture their designs on any mill and 3D printer. With the addition of the new TRIOS STL intraoral scan export, both 3Shape digital impressions and CAD design files are now completely open and available for any system.
The TRIOS STL export-option will be included as a software upgrade for TRIOS users and included in release of the new 3Shape Dental Desktop platform for TRIOS.
Read more about TRIOS Design Studio, Implant Studio.