The software solutions are available as add-ons for integration with Dental System™ and as stand-alone modules. Contact a 3Shape reseller for more details: www.3shape.com
About Implant Studio™
Implant Studio™ is used by dental labs and practices for prosthetic driven digital implant planning and surgical guide design.
In a recent blog post by Bob Cohen, CDT, of Custom Automated Prosthetics (CAP), said, "3Shape, the worldwide leader in dental lab scan and CAD software has just launched what I believe can be a game-changing software. Today in North America, 3Shape is the clear leader in the CAD market. That said; there are thousands of labs that if desired, can now offer guided surgery solutions through advances from 3Shape."
Implant Studio™ merges within the software cone beam (CBCT) images with intraoral 3D digital impression files. As a result, dentists and dental labs are able to evaluate the clinical situation digitally, including the assessment of bone density and nerve positions prior to implant surgery.
Dental labs are then able to design as well as manufacture restorations and implant components, such as temporaries, crowns, and abutments using the software. Labs can also design and print surgical guides with Implant Studio™, which are then used by the dentist to direct drilling during implant surgery.
Unrivaled technology that enables dental labs to provide complete implant treatment packages prior to surgery. And for dentists, to deliver a full range of implant services to their patients.
In addition, dentists and labs can communicate and share files in real-time during implant planning and surgery via 3Shape Communicate™ software as well.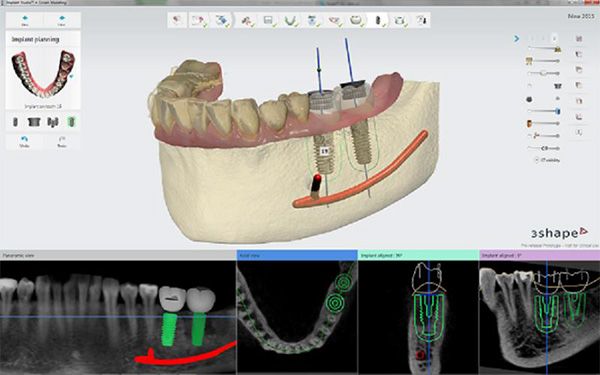 Leading prosthodontist and 3Shape Advisory Board Chairman, Dr. Jonathan L. Ferencz commented on what 3Shape digital technology has brought to implant planning by saying, "The difference digital dentistry has made to making a crown is tremendous. But the difference it has made in implant dentistry is night and day!"
About 3Shape Orthodontics
For orthodontic labs
Digital technology is fundamentally changing the way we live and work. For many orthodontic labs, the move to go digital has come down to the basic question: to be or not to be? There are just too many benefits to going digital for labs to ignore.
Creating digital study models from gypsum models or impressions, saving storage space, reducing environ­mental impact, the predictability and accuracy in CAD designed appliances are just a few. 3Shape orthodontic analysis, planning and manufacturing software, as well as our lab scanners, are more.
3Shape helps you build your digital lab according to your needs and budget. Start with our orthodontic software and add a desktop scanner when you are ready. You decide. We support you. Learn more about 3Shape lab solutions.
For orthodontists
Like labs, the benefits of going digital for orthodontists are undeniable.
In an interview with 3Shape, Dr. Santiago Isaza Penco, an orthodontist in Italy, told us that "it used to take three to four weeks to have the appliance designed and shipped back. Now it only takes two to three days for a retainer." In his words, "the workflow is so much faster and more accurate." Read interview - "Digital Orthodontics? Now, anything is possible"
Speed, accuracy and improved patient comfort are driving the move to digital for orthodontists.
As an orthodontist, if you consider how many analog impressions you take a year and instead, could take digital impressions in five minutes with an intraoral scanner, it is worth investigating.
In addition, 3Shape orthodontic solutions like Ortho Analyzer™ enable you to integrate all patient clinical data and cover all relevant treatment aspects on your pc. You simply analyze and plan your treatments and even share them onscreen with patients. You can simulate your treatment including extractions, interproximal reductions, and constraints – the full details of tooth movements.
Plus by partnering with 3Shape TRIOS Ready orthodontic labs you can send all case information, scans, case order and more for the manufacturing of orthodontic appliances with just a click via 3Shape Communicate™.
And the same holds true for orthodontic solution providers like Incognito by 3M, SureSmile by Orametrix and ClearCorrect. You send all case information, scans, case order and more with just a click via 3Shape Communicate™. No more FTP servers. No more marathon manual uploads. 3Shape makes it simple for you to team up with orthodontic brackets and aligner providers.