You have been using TRIOS for a few years now, how has it changed your orthodontic practice?
Firstly, it has contributed to enhancing our competitive positioning. Patients talk, as well as chat about us on social media. We can see it on Facebook for example, where patient followers increase day by day. I believe new technologies like TRIOS and cone-beam CBCT scanning have certainly helped to increase our patient numbers.
As always, people are looking for stable and good results. Digital technology has helped us to achieve this.
It is important that our patients receive the best services. It is what they expect and what they pay for.
TRIOS enables us to work digitally which certainly differentiates us from the other orthodontic practices. And because we are digital, our patient numbers have grown due to our better service and because we can work so fast.
So digital technology has speeded up your workflow?
Digital technology has changed the way we work in three distinct and measurable ways. One, the workflow as you mentioned. You can couple this with the way we manage a patient's treatment. Two, it has changed the way we communicate with our patients about a proposed treatment. And three, the way we communicate with our orthodontic labs. All these aspects are now much more effective and efficient, and as a result, much faster.
Communication between a lab and the orthodontist is very, very important. In Italy, labs must build all orthodontic appliances, so the cooperation between the two is extremely important.
In the old days our lab partner, who is hundreds of miles away, would come to my office every two days to pick up and check models, and design appliances. That is a lot of traveling and gas. Now, this is no longer necessary. Now everything is in real-time.
Just two years ago, we were still sending our lab's traditional impressions. It would take three to four weeks to have the appliance designed and shipped back. Now it only takes two to three days for a retainer.
This is a tremendous change!
So working with a digital-ready lab is important?
Yes. This is what helps to make the workflow so much faster and more accurate.
Unfortunately, not all labs are digitally capable. So I think that we need to increase the number of labs around the world that are digital. Education is necessary.
I believe that labs, like orthodontists, know the technology exists but they are scared to use it. For some, it is expensive, but for most, it is a lack of experience. The universities are not teaching technology. The new students may know something about digital dentistry but they are not ready to apply it. We need to invest in education.
Tell us about your patients
The majority of my patients are young people. Which is great because they are also the best at marketing our work. They go to our Facebook page or website and watch the videos. They want to see our intraoral scanner (TRIOS) because they have seen the video about it. (See Dr. Pencos video on YouTube)
With children, it has always been difficult to take traditional impressions. Having TRIOS has made it much easier.
I also discovered, if I switch off the lights, the children watch the screen when I scan. Its a show. We both can relax and take our time.
When I compare scanning to traditional impressions the feedback from patients is very positive.
As adults, for children, it is important that they see everything. In that way, they are convinced about the treatment from the start.
Patient compliance is very important in orthodontics and medicine, in general. When you are convinced that you need an orthodontist treatment you cooperate. But you need tools to explain the treatment with.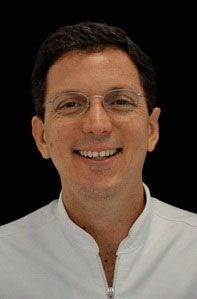 So going digital has improved your ability to propose treatments with your patients?
Yes. That's where the scans are invaluable. They make it easy. When your patient understands what you can do to solve the problem, they cooperate. Communication is key.
In fact, with the scans and software, I can simulate my proposed treatment. I can even bring in the parents during diagnosis, show the scans and describe the treatment.
Patients believe that because I am using new technology when I demonstrate the treatment, that I will deliver better results.
When the patient understands where we can put the tooth to achieve the best results it becomes very important information for them. It makes the patients' decision easier and the whole process go faster. They can go home and make a decision based on knowing what the treatment will entail.
At the orthodontic advisory board meeting, we had a very interesting discussion on the topic of previewing patient treatment.
As an orthodontist, we have many options for treating patients: aligners, traditional brackets, TADS and more.
With TADs (temporary anchorage devices) for example, in the past, I had a lot of difficulty in convincing people to use them. Today, I can show patients that we need to put a screw here and there in order to create an anchor. Today, they accept it. And the reason they accept it is because of digital scans and treatment simulation.
How has digital technology influenced your diagnostics?
Digital technology is enabling orthodontists and labs to make better diagnoses, as well as improve the development of appliances like aligners, brackets, etc… Because I am working digitally, which is inherently more accurate than analog, when I put an appliance in the patient, the precision of the fit is absolutely perfect.
Digital technology has enabled us to reduce so many problems. Our results are good. The diagnosis is perfect. Most importantly, my patients are happy.
Think about how often a patient loses their appliance. With digital, if someone loses a retainer, we can replace it rapidly. There is no chance of their treatment regressing.
Follow up is also so much easier with the scanner. It is much simpler to manage a patient's progress over time. If we wanted to, we could scan them every day and track movement. The software and scanner make it easy to put everything together.
I spend mere minutes scanning a mouth. Its nothing.
Digital orthodontics allows us to match models/scans to cone-beam CBCT scans. It has revolutionized the way we work and give us a much better way to explain and identify which treatments to use.
We can design and do everything. Now, anything is possible.
Santiago is a specialist orthodontist, international lecturer and author of several publications. He is also a contracted Professor of the University of Modena in Italy and editor review of P.I.O Progress in Orthodontics.