Copenhagen, February 28, 2023- 3Shape is very excited to unveil its new game-changing digital dentistry solutions at IDS in Cologne, Germany, March 14-18, 2023.
3Shape will showcase new solutions for dentists, including the award-winning TRIOS 5 intraoral scanner, 3Shape Unite platform, TRIOS Share, patient engagement, and studio apps.
For dental laboratory professionals, we will introduce new solutions like the dual model F8 lab scanner and 3Shape LMS, as well as feature our Dental System software, 3Shape Design Service, and 3Shape Automate.
"3Shape engineers are opening doors to entirely new ways for dental professionals to care for their patients and work with treatment partners. From AI applications to TRIOS 5 and TRIOS Share, we are ushering in a new and exciting era for digital dentistry," says Jakob Just-Bomholt, 3Shape CEO.
3Shape IDS press conference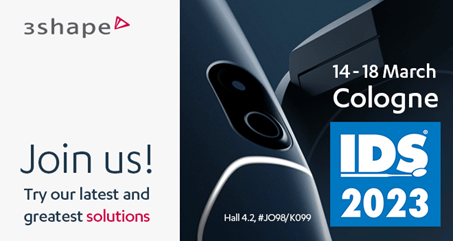 Jakob Just-Bomholt and Rune Fisker, Senior Vice President for Product Strategy, to host 3Shape Press Conference at IDS - 3Shape Booth - Hall 4.2, #JO98/K099, March 14, 2023, 09.30 – 11.00 AM CET.
3Shape invites IDS attendees to our press conference and visit the 3Shape booth all week and demo solutions, speak with 3Shape Academy experts, and learn and meet with leading dental industry lecturers. Hall 4.2, #JO98/K099.
Dental professionals worldwide trust 3Shape for our innovative and easy-to-use digital dentistry applications that make patient care more comfortable, predictable, and efficient. The 3Shape TRIOS line of intraoral scanners is the unprecedented ten-time, ten years in a row winner of the Cellerant Best of Class award for digital impression solutions.
The International Dental Show in Cologne is the world's leading trade fair for the dental sector.