Copenhagen, February 6, 2023 – Today, 3Shape announced that it is adding design services to its portfolio of digital workflow solutions for dental labs. 3Shape solutions for labs now include award-winning 3Shape CAD-CAM design software, dental lab scanners, LabCare services, and the just-launched, 3Shape Design Service.
FullContour rebrands to 3Shape Design Device, keeping leadership and personnel expertise
The new 3Shape Design Service is a rebranding of the 3Shape owned, FullContour design service company. The move enables 3Shape to bring the former FullContour's design services into its innovation and research and development tracks as well as make it easier for labs around the world to take advantage of the service as an integrated 3Shape digital dentistry solution.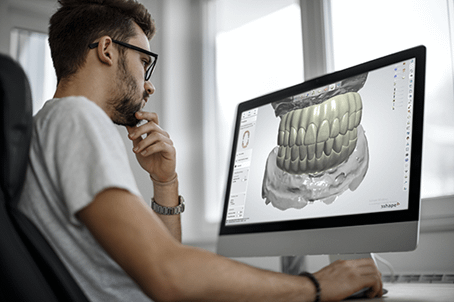 3Shape Design Service will offer both designing by dental professionals and AI driven design through 3Shape Automate, creating a unique design service with two powerful options that cater to professionals' different needs.
Rob Laizure FullContour CEO, says: "We look forward very much to delivering the same terrific products and services to our customers around the world. Now under the 3Shape banner.
All two hundred plus designers, management, and staff of FullContour will remain with the newly named 3Shape Design Service. Product prices and services are unaffected by the name change.
"3Shape is excited to support labs with this time and money saving solution, says Jakob Just-Bomholt, 3Shape CEO
He adds: Adding a design service to the 3Shape portfolio really cements our position as an industry leader for labs. There are other design service providers in the market, and other scanner and software makers - but only 3Shape now offers all three in a completely integrated and cost-effective workflow."
3Shape Design Service enables labs to:
Add capacity – Dental professionals can expand treatment capacity and get peace of mind during busy periods, emergencies, and employee absence at their labs.
New indications – Dental professionals can offer new indications without the cost and complication of adding new technology, software, or specific design expertise.
Efficient workflows – Dental professionals can take advantage of a powerful platform with full 3Shape software integration and integrated manufacturers.
Open service – 3Shape Design Service is open to scans from any brand and offers both traditional design services and cost-efficient, five-minute turnaround AI-driven design with 3Shape Automate.
5 million plus dental designs worldwide
3Shape Design Service (formerly FullContour) has produced more than five million dental designs worldwide and first opened in 2010. 3Shape will retain the design service's offices in three countries and continue to provide customer support in five languages.
Peace of mind for dental labs
When dental labs (using any CAD-CAM dental design software brand) are overburdened or just need an extra hand, they can load up their scans from anywhere in the world to the 3Shape Design Service online platform.
The design service provides designing for: copings, veneers, anatomical copings, cutbacks, split files, full contour crowns; clear aligner and splint designs; tooth borne surgical guide design and removable partial and full denture designs.