Copenhagen, October 17, 2022 – 3Shape introduces TRIOS Share - the world's first and only solution to enable you to scan and plan on every PC in your practice with a single TRIOS wireless intraoral scanner.
Now your whole team can get onboard with digital dentistry when you share the power of a TRIOS wireless intraoral scanner throughout your practice.
Maximize your investment and minimize your costs
With TRIOS Share, everyone gets to use your TRIOS, anywhere in your office. You no longer need to have one operatory dedicated only for intraoral scanning.
TRIOS Share enables you to walk from room to room with TRIOS in your hand because TRIOS connects to your internet via Wi-Fi. That means you or anyone on your team can use whatever PC is in your respective operatory to scan with and manage cases on - even your Practice Management System PCs.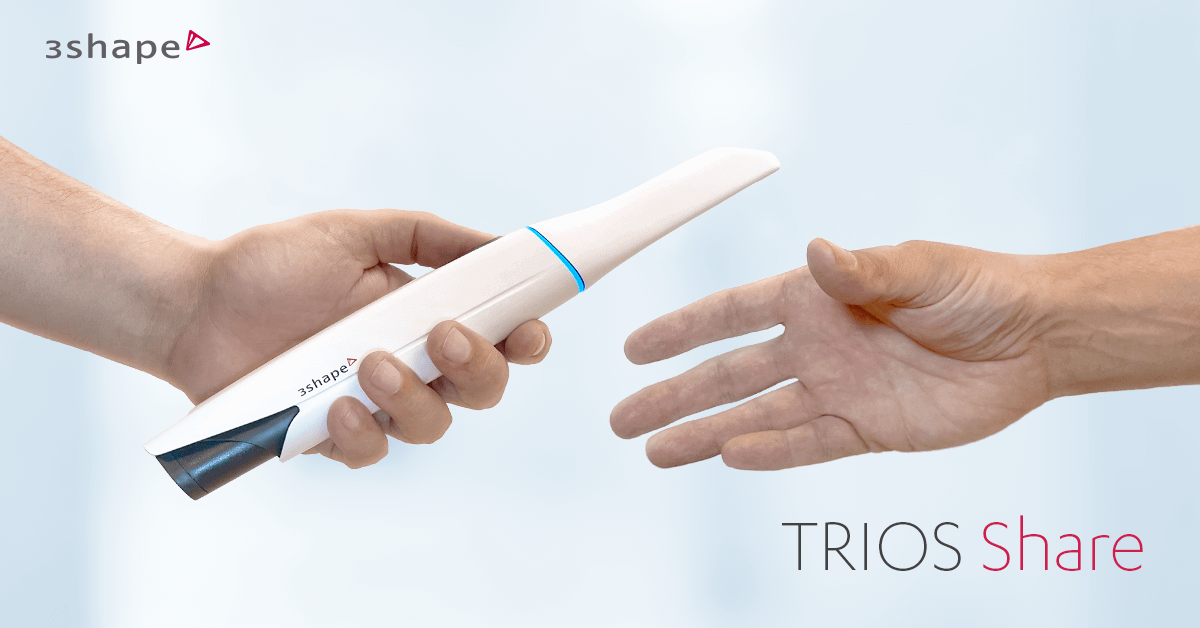 It also means you maximize your investment and minimize your costs because TRIOS Share can be activated for free with every TRIOS Wireless scanner. And it makes it easy for your team to scan every patient and build a digital patient library for your practice.
"TRIOS Share takes wireless intraoral scanning to a whole new level! You now cover your entire practice with just one scanner. Anywhere you have internet and a PC, you can use your wireless TRIOS," says 3Shape Senior Vice President for Product Strategy, Rune Fisker.
He adds: "Other brands may be wireless, but only our award-winning 3Shape TRIOS wireless intraoral scanners deliver real wireless freedom."
Developed for TRIOS 5 but works on every TRIOS wireless model
We originally developed TRIOS Share for the just-launched TRIOS 5 Wireless intraoral scanner. But due to the enormous data-crunching power in all our wireless scanners, every 3Shape TRIOS wireless model can now take advantage of TRIOS Share too. (TRIOS 3 & 4 wireless)
How TRIOS Share works
Your TRIOS wireless scanner connects to your practice's network via Wi-Fi. Then, using one of two scenarios, you either mirror the screen from your original TRIOS PC to every PC in your practice using Splashtop*or have multiple TRIOS scanning PCs in your practice that all connect to your practice's network.
You can then walk from room to room with your TRIOS (because it is connected to your Wi-Fi) and use whatever PC is in the respective room as a monitor to both scan and plan on.
Extra 3Shape licenses are not needed, and Wi-Fi hubs or clear paths to them unnecessary. Because TRIOS runs on standard Wi-Fi not 60 GHz like one of the other brands. Just make sure there's Wi-Fi in every room you use your TRIOS, and a PC connected to your network. TRIOS Share even works on practice PCs.