Copenhagen, September 1, 2020 – 3Shape announces the launch of its brand-new Generation Red E scanners for labs.
The Generation Red E scanners are upgrades of the 3Shape E1, E2 and E3 dental lab scanners to the same next generation platform as the award-winning E4 lab scanner. The next generation platform enables the three Generation Red E scanners to scan 20% faster for optimized productivity.
The new Generation Red E scanners also add a signature red ring to the Red Dot award-winning E scanner design.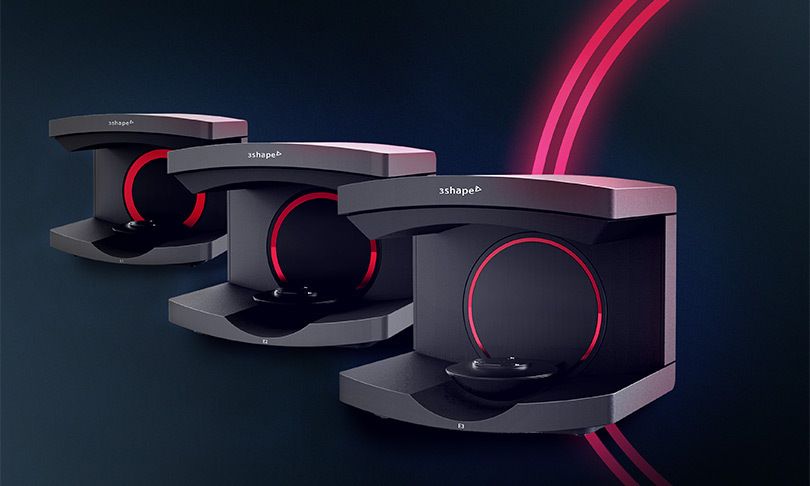 20% faster at no extra cost!
Despite the significant boost in scanning speed, all Generation Red E scanners are available at the same price points as their corresponding E models.
"With the 20% increase in speed, coupled with the already lightning fast E4, the Generation Red line of lab scanners make it easier than ever for labs to do more of what they love, faster. Productivity is paramount for labs. The speed and accuracy of Generation Red E scanners combined with our easy to use software ensure that lab professionals can work quickly, predictably, and at a great price!" says Rune Fisker, 3Shape Senior Vice President, Product Strategy.
SAVE up to USD $2,400/€2,000 on a brand-new Generation Red Scanner today
Up until the end November 2020, labs can save up to $1,200/€1,000 on a new Generation Red E Scanner – and up to $2,400/€2,000 by trading up their old 3Shape lab scanner for a new Generation Red E scanner. Professionals are encouraged to contact their 3Shape reseller for complete details on the offer.
Generation Red E scanner speeds and accuracy
Generation Red E scanners include from two to four 5MP cameras (depending on the model) and auto start scanning. ISO-documented accuracy in the E4 and E3 models is suitable for implant bars. The E line of lab scanners are Red Dot international product design winners.
| | | | | |
| --- | --- | --- | --- | --- |
| | Generation Red E4 | Generation Red E3 | Generation Red E2 | Generation Red E1 |
| Full arch scan speed | 9 sec. | 18 sec. | 24 sec. | 32 sec. |
| Full arch impression scan speed | 45 sec. | 64 sec. | 72 sec. | 104 sec. |
| Accuracy (ISO 12836) | 4 μm | 7 μm | 10 μm | 10 μm |
More about the Generation Red E scanners
Compatibility with the Generation Red E scanners and 3Shape orthodontic software coming in October 2020.
Contact your reseller regarding availability of 3Shape products in your region.