Copenhagen, May 5, 2018 – Professionals attending the American Association of Orthodontists (AAO) 2018 Annual Session can hands-on demo the just-released 3Shape TRIOS MOVE** - a brand new hardware setup for the multi-award-winning 3Shape TRIOS 3 Wireless intraoral scanner.
The 3Shape TRIOS 3 Wireless intraoral scanner is recognized for its insane-speed and documented accuracy*. The industry's first and only wireless intraoral scanner, 3Shape TRIOS 3 Wireless enables professionals to wirelessly intraoral scan their patients as well as walk from operatory to operatory with just a TRIOS wand in hand and wirelessly connect to each operatory's respective 3Shape laptop.
It has been a record-setting year for 3Shape TRIOS. The digital impression solution received first, the Cellerent "Best of Class" Award for intraoral scanners, marking an unprecedented five years in a row TRIOS has won the award. TRIOS was also given this year's Dental Excellence Award for Best New Diagnostic Imaging Device by the dental professionals' website, Dr. Bicuspid. And additionally, TRIOS was presented in April with a Red Dot Product Design Award - the international distinction for high design quality. Together, three of the industry's top accolades for intraoral scanners.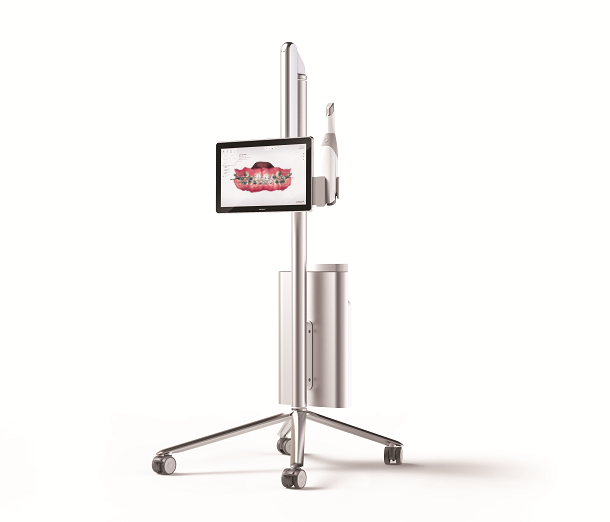 About 3Shape TRIOS MOVE
The new 3Shape TRIOS MOVE now places the 3Shape TRIOS intraoral scanner, monitor and PC on the lightweight, fully-adjustable, ergonomic 3Shape TRIOS MOVE. The mobility of the 3Shape TRIOS MOVE enables doctors to always position the screen in the right place. This provides a superior experience for both the orthodontist and patient and makes it easy to share dynamic treatment information close-up with patients to advance treatment dialogue and acceptance. 3Shape TRIOS MOVE is perfectly-balanced and can be rolled effortlessly.
Professionals using the 3Shape TRIOS MOVE with TRIOS 3 Wireless additionally benefit from complete freedom of movement because there are no connecting cables between the wand and hardware.
Excite patients with 3Shape TRIOS apps
Orthodontic professionals can take advantage of the fast-growing portfolio of 3Shape apps to excite and engage patients and advance treatment acceptance while providing insight into dental health.
3Shape TRIOS Treatment Simulator**
Scan patients and show them their present dentition compared to the simulated results of orthodontic treatment to drive case approval.
3Shape TRIOS Patient Monitoring**
Enables professionals to compare patient scans between visits to monitor changes in their dental status and identify a timely and effective care plan. Insights are sharable with patients to gain treatment acceptance.
All 3Shape Open Orthodontic solutions will be available for demoing and workflow demonstrations at the 3Shape booth #2301.
*Two intraoral scanner accuracy studies - Finish line distinctness and accuracy in 7 intraoral scanners versus conventional impression; An Evaluation of the Accuracy of Six Intraoral Scanning Devices: An in-vitro Investigation - (studies available on file)
**For availability in defined countries/regions, please contact your 3Shape reseller.