Copenhagen, January 30, 2018 – 3Shape announces that the U.S. Food and Drug Administration (FDA) grants 510(k) USA market clearance for 3Shape Ortho System™ 2017 software for orthodontics.
This FDA market clearance includes 3Shape's innovative digital indirect bonding placement and transfer media application (IDB), as well as appliance design and production workflows.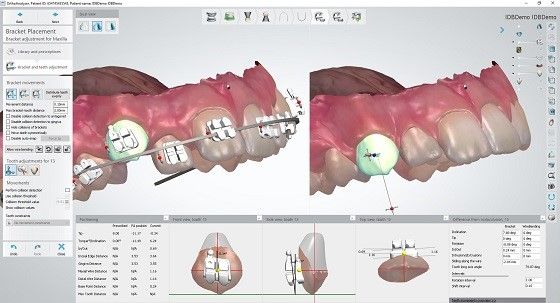 3Shape Ortho System enables orthodontic professionals to overlay DICOM, cephalometric, and 2D pictures along with intraoral scans for orthodontic case analysis and planning, treatment simulations and the design and production of FDA-cleared orthodontic appliances.
Using 3Shape Ortho System, professionals can bring a patient's malocclusion up onscreen and in just a few clicks, the software suggests an ideal setup.
The digital setup can be used in the planning of an indirect bonding bracket treatment as well as in creating the transfer media. 3Shape Ortho System intuitively guides the user through the design phase and the relevant production parameter settings.
Over 275 bracket libraries are integrated with the software – 3Shape Indirect Bonding Studio.
Like all 3Shape solutions, 3Shape Ortho System is open, and puts the professional in control. Professionals decide how much of the workflow they want to do inhouse and/or send to partners.
Because the workflow is digital, treatment planning and simulations can be shared onscreen with patients as well as seamlessly between practice, lab, and 3rd party orthodontic solution providers via the 3Shape Communicate cloud platform.
"The documented accuracy and ease of use of our TRIOS intraoral scanners provides a perfect start to the digital workflow for orthodontists. Doctors and labs using the scans and Ortho System can plan bracket treatments as well as create and produce the transfer media and appliances inhouse or at production partners. Coupled with our unrivalled eco-system of treatment options, 3Shape is opening the doors to growth for practices, labs and partners," says Allan Hyldal, Vice President of 3Shape Orthodontics.
Learn more about 3Shape Ortho System™ for orthodontic practices, and for orthodontic labs.