Copenhagen, April 7, 2017 – The 3Shape X1 4-in-1 CBCT scanner has been awarded with the Red Dot, the international distinction for high design quality.
The 3Shape X1 4-in-1 CBCT scanner delivers CBCT, panoramic, face scan, and cephalometric imaging and introduces several radical features that are redefining CBCT scanner' design and functionality.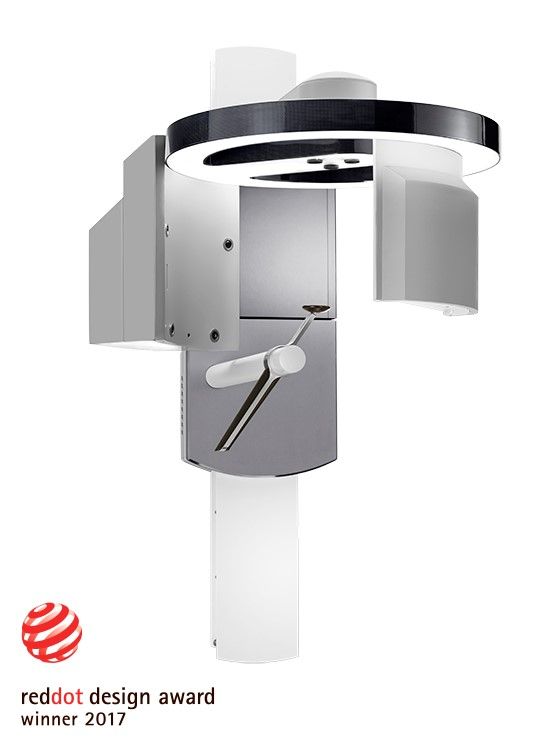 Innovations in the X1 include motion compensation technology that eliminates the need of patient head-fixation and a Dynamic FOV that together, improve image accuracy and reduce dose. The X1's sculpted design, which incorporates reactive mood-enhancing ambient lighting, carbon fiber, milled aluminum parts and wooden handles and chin rest create a more soothing scanning experience for the patient.
"Winning the Red Dot Award two years in a row and for two different product designs, demonstrates 3Shape's dedication to developing superior solutions," says 3Shape, Vice President CBCT Business Unit, Mikael Toxvaerd Petersen. He adds, "As a starting point, the X1 like all 3Shape solutions, was designed to increase user functionality and patient experience. In the X1's case, this means improved image quality and lower dose while making the scanning experience more comfortable for the patient. Reviews from dental professionals that have seen the system as well as the Red Dot award endorsement, confirm the imapact the X1 will have on 3D imaging."
Eskild Hansen, 3Shape Chief Designer says about the X1, "The X1's iconic Scandinavian shape and functionality is unlike anything ever seen by the dental industry. Not only does the X1 deliver outstanding 3D imaging quality, it creates a paradigm shift in design for medical equipment."
Across industries and around the world, Red Dot is seen as the award for high design quality. Only products which set themselves apart considerably through their excellent design receive the sought-after quality seal from the international Red Dot jury. This year, the Red Dot's international expert panel of designers, design professors and specialist journalists, assessed entries from 54 countries, with the X1 winning the award for its category.
3Shape X1 4-in-1 CBCT Scanner video – https://youtu.be/6swUjn8U5kw
3Shape X1 4-in-1 CBCT Scanner webpage.
Contact your 3Shape reseller regarding product availability in your region.