Copenhagen, June 14, 2017 – ResMed recently announced that intraoral scanning with 3Shape TRIOS optimizes its Narval CC Mandibular Repositioning Device (MRD) fit (1) improves patient comfort, (1) shortens lead times as well as time spent by doctors at chairside (1).
The 3Shape TRIOS intraoral scanner creates digital impressions, used for the computer design of ResMed's Narval CC MRDs, which are later 3D-printed to create a totally digital workflow from start to finish. The TRIOS integration has enabled ResMed to provide the first customized MRD in Europe.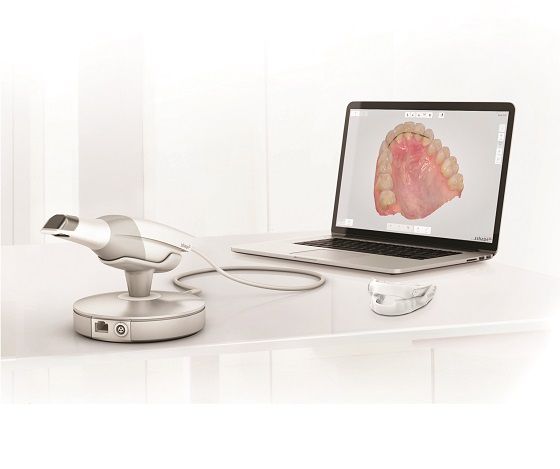 ResMed says that the digital workflow with TRIOS makes the Narval CC fit even better to the patient's individual anatomy, significantly reducing the level of adjustments needed at chairside. (1) In addition, the 3Shape TRIOS intraoral scanner* allows dental practitioners to take and send patients' dental impressions digitally, thereby removing the need to make and post plaster models or regular impressions.
ResMed announced that digital impressions taken with the 3Shape TRIOS intraoral scanner are characterized by a high degree of accuracy in their reproduction of the maxillary and mandibular arches. Research found that 95% of the devices made out of a digital imprint from 3Shape TRIOS were found to fit well in the mouth even before practitioners made any adjustments. (1) The scanning process was also found to be fast, and considered to be convenient or very convenient by 98% of the practitioners who tested it for a Narval CC. Furthermore, it was concluded that the scanner took up little space in the mouth, reducing the level of discomfort for patients, particularly for those who suffered from gag reflex. Overall, 76% of the patients who experienced intraoral scanning with 3Shape TRIOS to receive a Narval CC, felt that the process was more comfortable and faster than standard impressions. (1)
"Full arch scans are needed in device manufacturing workflows. That makes 3Shape TRIOS speed and accuracy invaluable. From sleep device makers, implant manufacturers, printers and milling machines to orthodontic solutions, TRIOS connects dental professionals to a wide range of treatment opportunities," says Allan Hyldal, Vice President of 3Shape Orthodontics.
Find out more about the Narval CC here
References
1. IOS European Controlled Product Launch (CPL) – ResMed internal report, data on file (confidential) – January 2017- Chapters 4.2 (Summary from 92 manufactured IOS MRD), 4.3 (Patients and practitioners feedback from 63 questionnaires). Extracts from this ResMed internal report:
• 95% of the MRDs were fitting well in the patient's mouth, before practitioners did any adjustments.
• There were no complaints or returns regarding retention.
• 15 patients could compare their IOS MRD with their previous one (not made from digital imprints): 80% of them declared that their new IOS MRD was more comfortable. In addition, 76% of 46 patients who had a conventional imprint in the past considered the digital imprint to be more comfortable, than a conventional one.
*3Shape TRIOS is the first intraoral scanner to receive a validated workflow from ResMed.