Copenhagen, June 9, 2017 – With upcoming software update, 3Shape TRIOS intraoral scanner users can now export STL file digital impressions directly from their TRIOS Dental Desktop software dashboard. This enables TRIOS owners to use STL files for working with in-house software and for sending to dental laboratories and appliance-makers.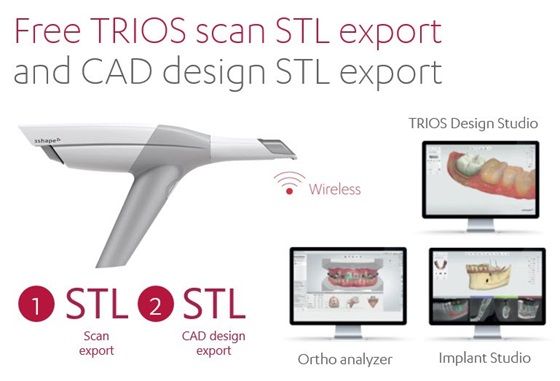 3Shape is spearheading more openness in digital dentistry. By driving integrations with the widest selection of restorative labs, implant manufacturers,orthodontic treatment providers, milling systems and 3D printer-makers, practice management systems, 3Shape provides an open ecosystem for dental professionals.
3Shape presently provides STL CAD design file export from its design software. Open STL CAD design file export means professionals can manufacture their designs on any mill and 3D printer. With the addition of TRIOS STL intraoral scan export, both 3Shape digital impressions and CAD design files are now completely open and available for any dental professional on any system.
"As doctors and the industry in general, go more and more digital, the need for across-the-board seamless connectivity is essential. We believe that professionals should have the freedom to choose the partner and solution they want to work with. Whether it's a dental lab or appliance-maker that needs a STL or DCM file for their workflow, or a preferred milling machine and 3D printer, it should be up to the professionals to decide how, and who they work with," says Tais Clausen,3Shape co-founder and co-CEO.
The TRIOS STL export-option will be included as a software upgrade for TRIOS users in the release of the new 3Shape Dental Desktop platform for TRIOS. Roll out is expected to start Q4 2017. For specific availability, TRIOS users should contact their reseller.