Copenhagen, February 25, 2016 – 3Shape to introduce newly updated D2000 dental lab scanner at Chicago Midwinter. The updated D2000 features new enhancements that reduce even more time and steps in the workflow for dental labs.
Five new ways the D2000 shortens the dental lab workflow:
Optimized processing speed– creates faster performance and better scanning workflows for several indications – Shortens waiting time between creating orders and starting the scan, and enables technicians to begin next scan without having to wait for post-processing.
Calibrated Transfer-plates solution– enables the precise capture of the bite and the model's position in the articulator to save a step in the workflow. Works with any articulator.
Impression scanning– Multi-line scanning in the D2000 and D1000 improves coverage and performance for accurate scanning of impressions to enable restorative design without the need to pour gypsum models.
All-in-One scanning of triple-tray impressions– Special mount enables triple-tray scanning capture of upper, lower and bite in one scan.
Improved workflows for single-tray impressions– Provides support for single tray impression scanning including bite alignment.
The software upgrades are available for all relevant 3Shape lab scanner models. Current lab scanner owners will receive the upgrades as a LABcare™ software update, where applicable.
Impression scanning – the future is now
The D2000 and the smaller D1000 lab scanner feature multi-line technology. Multi-line technology utilizes multiple scan lines in a single shot to significantly improve cavity and impression capture.
This enables the D2000 to accurately scan analog impressions sent to the lab by a dentist. This in turn, eliminates the need for labs having to pour or create a gypsum model from the impression. This saves several steps in the workflow and allows labs to print instead, cost effective 3D models derived from the analog impression if they need a physical working model.
While all 3shape scanners support impression scanning only the D2000 and D1000 feature multi-line technology.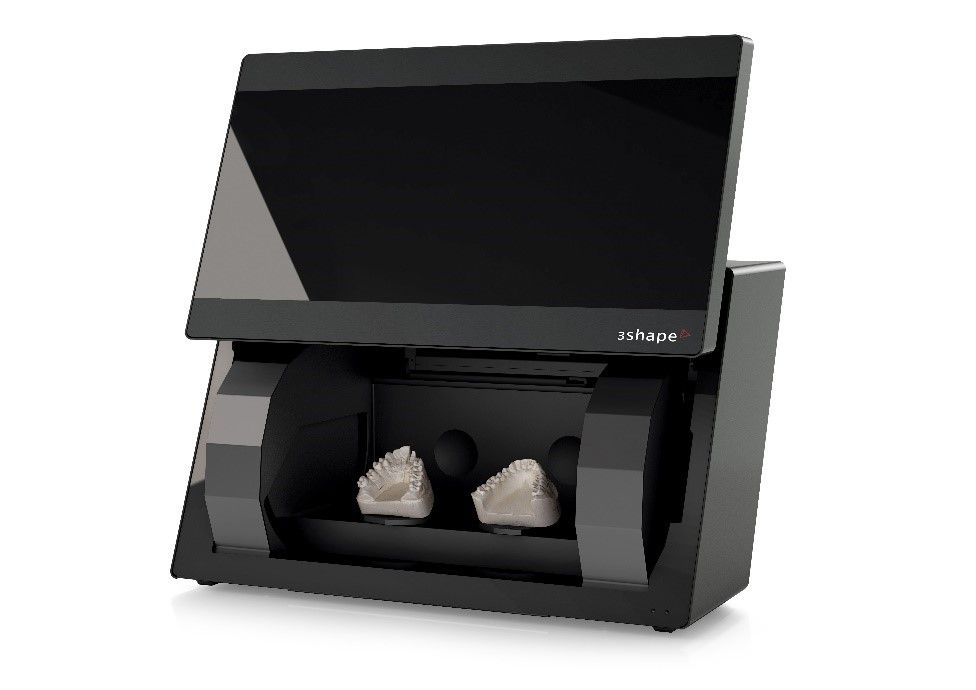 "Impression scanning is today's reality and the future. No waiting for models to set, no plaster inaccuracies and we reduce costs. Every lab should invest in this technology," Carlo Backes, Excent Tandtechniek BV, Holland.
About the D2000 dental lab scanner
Introduced at the 2015 Midwinter show, the D2000 was named a top 10 coolest product at the event. The D2000 captivated the industry by having room for two models in its interior, enabling technicians to scan two models at once and perform a complete case like a three-unit bridge in just one scan.
D2000 - All-in-one scanning for max volume throughputs
4 x 5 MP cameras, Blue LED Multi-line
Accuracy: 5 μm (ISO 12836) / 8 μm (Implant bar)
Die scan time: 15 sec
Full arch scan time: 20 sec
Color texture scanning
No need for separate die scan
All-in-One scanning: room for 2 models
Impression scanning