Copenhagen, August 16, 2016 – 3Shape now includes five-year warranty with all new lab scanner purchases.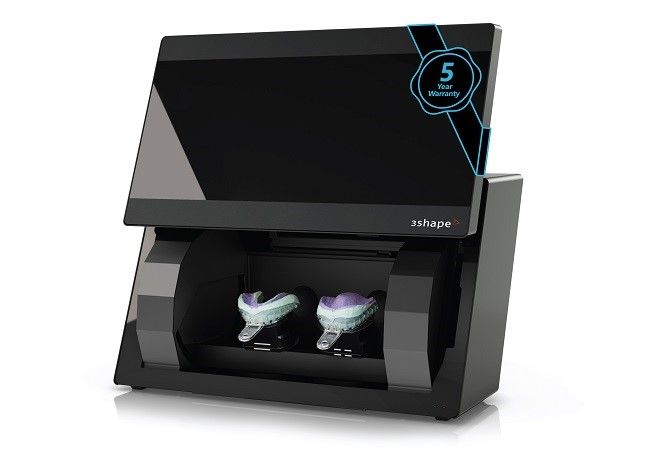 The five-year warranty applies to all purchases of 3Shape lab scanners made after June 6, 2016, which include either Dental System™ Premium or Ortho System™ Premium software. If a problem ever arises, 3Shape users can simply send the lab scanner to any of the six local repair centers around the world in the Americas, Asia and Europe for a free repair during the five-year after-purchase period.
"The five-year warranty becomes a terrific addition to the services already provided by our 3Shape LABcare™ customer program. The LABcare program, and its many benefits like unlimited software upgrades, training, support and now the warranty, helps make our products the most attractive available in the dental lab market," says Flemming Thorup, president and CEO at 3Shape.
Already today, 3Shape LABcare is ensuring dental lab professionals that their industry expertise and CAD solution grow stronger year after year by backing them with unlimited software improvements that include exciting new features like increased scanning speeds, rewritten impression scanning algorithms, partner component and tooth library integrations and much more created by 3Shape's more than 275 in-house developers. The software upgrades function on all lab scanner models, regardless of the scanner's age, to enable longtime 3Shape-users to stay competitive always with the latest technology.
LABcare members also receive special discounts on scanner trade-in programs and select deals on new scanner and software purchases. While the 3Shape network of authorized experts provide LABcare members with global-support in local language and time-zone, as well as delivering a broad range of user events, live training and learning resources.
The five year warranty is valid with all 3Shape D- or R-series scanners (models 500, 750, 850, 900, 1000, 2000) bought after June 6, 2016, that include either Dental System Premium or Ortho System Premium software packages with the purchase.
Learn more about the 3Shape dental lab scanners.