Copenhagen, July 8, 2015 - 3Shape, a global leader in 3D scanners and CAD/CAM software solutions is proud to announce that dental professionals can access the implant lines from DENTSPLY Implants in connection with 3Shape Implant Studio™ from August 2015.
Dentists, implantologists, and dental technicians virtually access implant systems when using Implant Studio™ software. Professionals choosing implants from DENTSPLY Implants for example, then plan the implant procedure based on DENTSPLY Implants' precise specifications. The DENTSPLY Implants library includes all implants from ANKYLOS®, ASTRA TECH Implant System™ and XiVE®.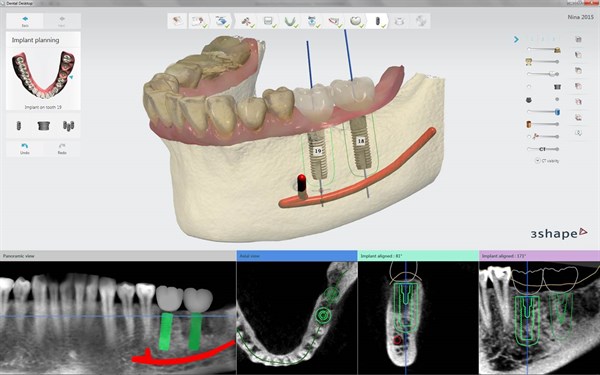 "We are glad to add the DENTSPLY Implants' renowned and widely used family of implant lines to the implant systems now available in connection with Implant Studio™," says Flemming Thorup, CEO at 3Shape. "Providing easy-access to leading implant systems, such as those from DENTSPLY Implants, is helping to make Implant Studio™ the most attractive implant solution for dental professionals.
" Implant Studio™ enables implant professionals to plan and perform implant procedures based on the patient's prosthetics and overall clinical situation. Implant Studio™ enables dental labs to deliver the complete implant package including components and surgical guides, whilst helping dentists to provide a full range of implant treatments to their patients.
Dental professionals will have access to DENTSPLY Implants as part of the upcoming release of 3Shape Implant Studio™ 2015. The software is scheduled for release in August, 2015.
Users wishing to benefit from the opportunity should contact their 3Shape distributor for more information on how to access the libraries.