Copenhagen, July 3rd, 2012 - 3Shape A/S, a global leader in 3D scanners and CAD/CAM software solutions announces the official release of new capabilities in Dental System™ to design 2-piece customized abutments using DENTSPLY Friadent pre-manufactured titanium bases.
3Shape has integrated a complete and original DENTSPLY Friadent library within its Dental System™ software supporting DENTSPLY Friadent's ANKYLOS® and XiVE® implant systems.
The new library enables dental technicians to use 3Shape Abutment Designer™ to model 2-piece abutments using a pre-manufactured titanium base with a customized Zirconia abutment top. To manufacture the designed restoration, the original titanium base must be obtained from DENTSPLY Friadent and the customized Zirconia part can be milled locally in the lab or milling center.
"DENTSPLY Friadent is a leading implant manufacturer, and many labs are steadfast users of both the 3Shape CAD/CAM Dental System™ and DENTSPLY Friadent's abutments," says Rune Fisker, VP Product Strategy, at 3Shape. "Now they can design virtually and provide highly esthetic 2-piece customized abutments, thereby introducing better choices for dentists and their patients."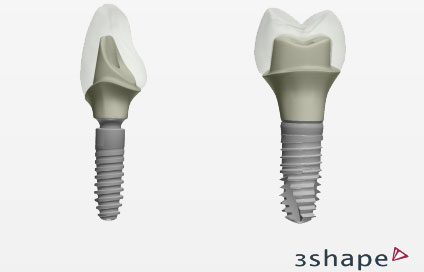 "Optimal clinical results and long-term stability can be achieved best by using original components like implant, titanium base and implant library throughout the workflow", says Frank Beckerle, Global Brand Manager Digital Dentistry, at DENTSPLY Friadent. "To detect the correct position of ANKYLOS® and XiVE® we also provide the matching scan-bodies".
"The DENTSPLY Friadent library gives me even more options in solving implant cases with individual zirconium abutments on titanium bases," says Björn Roland. Dental Design Schnellbächer & Roland. "Using these libraries with the 3shape CAD Design Software I get the optimal esthetic result easy and fast in a few clicks."
The DENTSPLY Friadent library is available from today, July 3rd 2012. Users who wish to benefit from this opportunity should contact their 3Shape distributor for more information on how to obtain these libraries. The original implant and titanium base must be obtained from the DENTSPLY Friadent distributor, and scan-bodies can be ordered at the international customer service, phone: +49 6181 595694, e-mail: [email protected].

About DENTSPLY Friadent
DENTSPLY Friadent is firmly committed its vision to create dental implants which last a lifetime. The company is the implant division of DENTSPLY International, which with over 12,000 employees is the world market leader in the dental industry. The implant division is represented in more than 70 countries. DENTSPLY Friadent is reliable partner for all dentist and dental technicians specialising in implantology. The company offers the three most important factors for success:
Strong product brands
DENTSPLY Friadent offers a comprehensive range of excellent implant solutions with proven clinical results: ANKYLOS®, XiVE® and FRIALIT® along with its bone augmentation line FRIOS®.
Innovative technologies
The company´s product line is supplemented by implant surface technologies, dentures and bridges produced using CAD/CAM, and its computer-guided surgery system ExpertEase™.
Systematic practice development
The service brand, stepps® is an easy-to-use package of solutions to assist practices and laboratories in their marketing activities.
For further information regarding DENTSPLY Friadent, please go to www.dentsply-friadent.com.