Back in March, 3Shape hosted a two-day virtual educational event called 3Shape Navigate.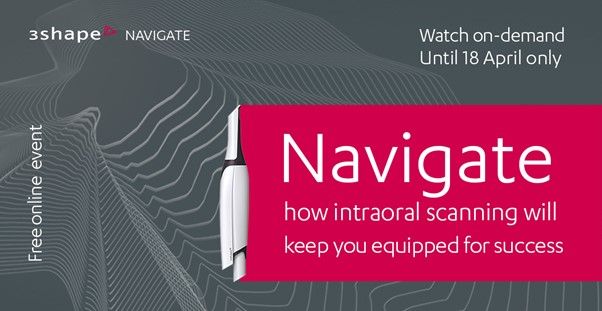 The event's eight sessions were geared to dentists who do not own an intraoral scanner or have yet to take advantage of digital workflows.
To say the Navigate sessions were different would be an understatement. The speakers presented unbiased and candid films on what it really meant for them to go digital - the ups and the downs.
If you are a professional that has not purchased an intraoral scanner but would like to dig deep and investigate them, you now have four days (until April 18) to watch the sessions. They are all free and we promise, they are different.
Go to the Navigate website and register. You can then watch the sessions on demand. There is also a panel session with four doctors bouncing off each other talking about their individual challenges and best practices when it comes to intraoral scanning. Let's change dentistry together!