3Shape is hosting a FREE two-day virtual educational event next month on March 17 + 18. The event called 3Shape Navigate is geared to doctors interested in learning more about digital dentistry with a special focus on digital workflows.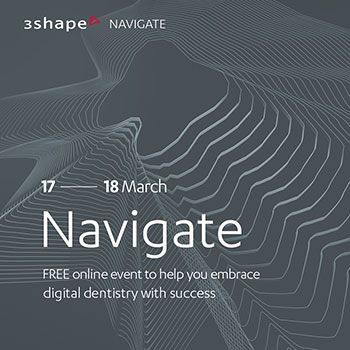 3Shape Navigate is unique in that the sessions are presented by a mixture of doctors who are both novices and experts within digital dentistry. It will provide a one-of-a-kind opportunity for doctors investigating digital dentistry. With presenters sharing their candid opinions and experiences in going digital and looking to answer important questions like, digital's impact on treatment quality; the real costs; and how doctors can get started.
The two-day event includes eight engaging educational sessions. Presenting doctors include: Dr. Ahmad Al-Hassiny, Dr. Carlo Arcara, Dr. Zuber Bagasi, Dr. Aodhan Docherty, Dr. Barbara Jurim and Dr. Mark McOmie.
With a special interactive panel session featuring 3Shape's own Rune Fisker joined by a team of digital dental professionals discussing digital transformation. The panel includes: Dr. Ian Buckle, Dr. Karm Jandoo, Dr. Bong Kwoo and Dr. Jonathan Ng.
You can download a list of Navigate sessions or visit the Navigate event page.
3Shape Navigate is completely free to sign up for and attend. All sessions are available in five languages (with voiceover and subtitles).
Special offers for Navigate attendees:
Navigate attendees can also take advantage of event-exclusive access to:
1-to-1 demos – attendees can book a personal (virtual) 1-to-1 session with a 3Shape product expert in their preferred language. Limited availability.
Training– secure your place on FREE upcoming training sessions exclusive to 3Shape Navigate attendees only and save big on future learning with 3Shape.
TRIOS toolbox – interactive tools to calculate your options and costs for digital setups.