Imagine a scenario where all the digital tools you need to complete your cases - from treatment planning software and scans to partner communications - are available from one platform accessed via a single log-in.
We have done it! 3Shape announces the launch of 3Shape Unite.
3Shape Unite is our new platform included free with every 3Shape TRIOS - an open platform that brings world-leading dental companies, solutions, and labs together to enable you to manage all your cases and effortlessly share data and communicate with your treatment partners from one interface and login.
Intuitive interface and easy access through integrations
Fully integrated with the multiple award-winning TRIOS intraoral scanner, the Unite platform delivers an intuitive user interface including: a simplified lab order form with built-in chat and best in class workflow between the dental clinic and over 1,000 labs; integrations with 50 plus clear aligner providers and patient management systems, and easy access to patient images. Unite makes digital dentistry more straight-forward and accessible than ever.
With 3Shape Unite, we've optimized the connections between you and treatment partners beforehand. The integrations are represented in the Unite platform as apps in the 3Shape Unite store. You simply click on an app to establish your connection.
App-based dentistry puts new partners at your fingertips
The app then automatically takes care of sharing relevant information like your office details and more. And most importantly, the connected app makes it seamless for you to send your scans, case information, and communicate with your partners.
The app-based approach also makes it much simpler for you to grow your digital ecosystem and your practice because you can just choose new treatment solutions or partners to connect to. The app takes care of the rest - all directly from your 3Shape TRIOS and Unite.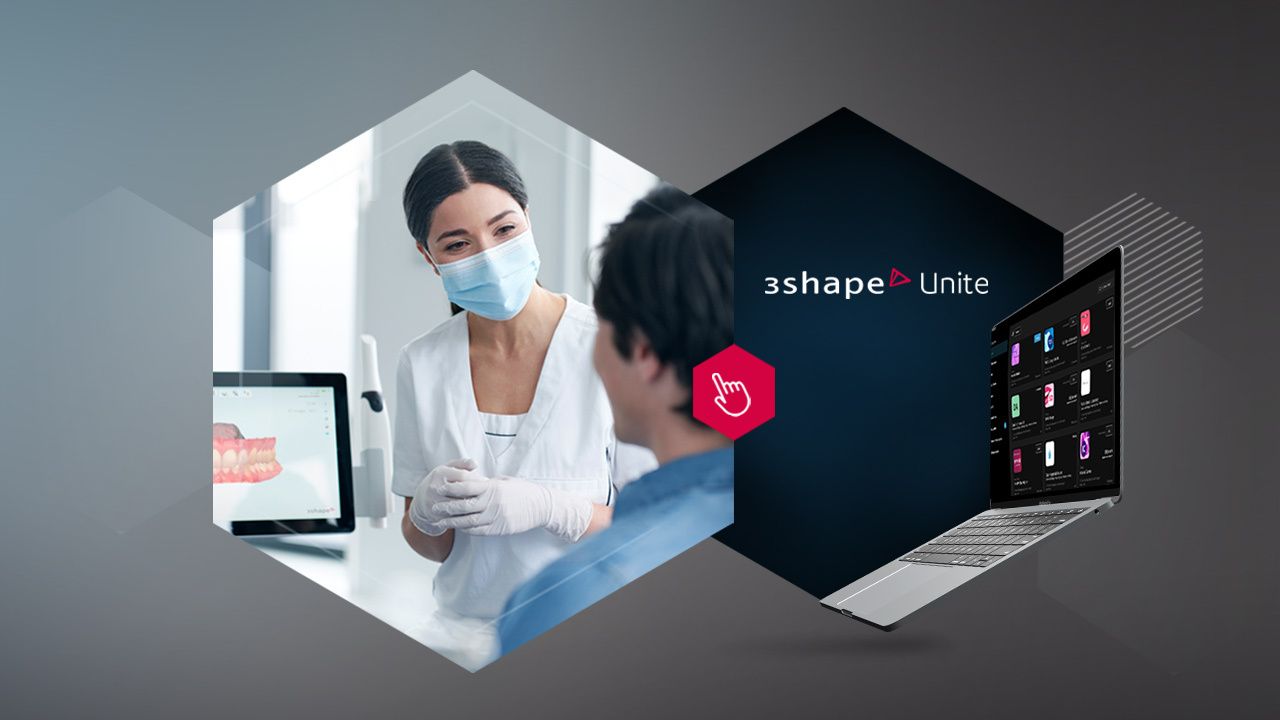 Dentistry leaders have joined with 3Shape Unite, as founding partners, to launch the new platform. 3Shape Unite users can access with optimized integrations: Henry Schein's Patient Management System and clear aligner brands; Ivoclar Vivadent's dental applications for both dentists and dental technicians, and the Straumann Group's clear aligner, implant, prosthetic solutions, and services.
3Shape CEO, Jakob Just-Bomholt says about the new platform, "3Shape Unite brings to life our historic vision of giving dentists freedom and open options. It is digital dentistry united under one platform. From labs and treatment solution partners to managing patient care, 3Shape Unite creates workflows that just flow."
Pick and choose the best treatment for your patients
With a digital ecosystem like 3Shape Unite's, you are no longer tied to one company's solutions. You can pick and choose the best treatment for your patients. And an app-based approach not only helps to make this possible it also makes the connection and workflow so much smoother when choosing partners.
Another great benefit of the Unite platform is that it provides a directory for dental labs to become more visible to dental practices around the world. On Unite, labs can market their services with a profile they create and take advantage of an optimized order workflow with practices.
Dentists anywhere in the world can find a lab or treatment partner anywhere in the world, simply by connecting to them through a Unite app.
3Shape Product Director for the Unite platform, Thomas Hedegaard, says, "3Shape Unite's open network and app-based approach means that dentists can choose to work with any lab by simply connecting to them through an app. This gives dental practices complete freedom of choice, not only in terms of their lab partners but with third-party treatment providers as well. And because Unite optimizes the connection and communications ahead of time, you know the partner you are connecting to is digitally ready."