Every day in Total Tech Week is dedicated to a specific specialism in dentistry. With each one-hour session tailored to both beginners and experienced digital professionals. So, whether you work in a lab, as a GP, implantologist or orthodontist, there will be tips, protocols and cases showcasing digital workflows geared especially to your needs.
As an open platform, 3Shape solutions are integrated with many of world's leading providers. From implants, components, and clear aligners to CMS, milling machines and 3D printers, 3Shape actively seeks to integrate our workflows with partners to change dentistry together.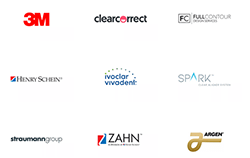 During Total Tech Week, each day will feature a partner showcasing their solutions and workflow integrations with 3Shape. These sessions can be especially beneficial for you if you are interested in a partner's solution and want to learn more or just researching opportunities.
For example, ClearCorrect will be holding a session on the new integration with TRIOS that makes getting started with clear aligners much simpler for practices. As well as companies like Ivoclar talking on Thursday about their integrated denture workflow and much more.
Each partner showcase is geared to a specific digital dentistry hot topic and will be led by respective partner company.