Back in November 2019, 3Shape spoke with Italy's Dr. Lucio Lo Russo. Dr. Lo Russo has created a tremendous amount of industry buzz around his denture design and production based exclusively on edentulous scans - fully digital dentures designed from TRIOS intraoral scans of edentulous patients.
Doctors have long argued that it's not possible to accurately scan an edentulous arch. Dr. Lo Russo has documented otherwise. In fact, he has created over 500 fully digital dentures to prove the point.
3 years of evidence for accurate edentulous intraoral scanning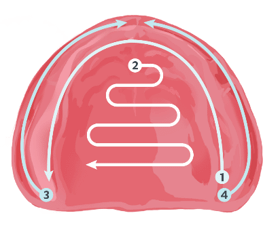 Dr. Lo Russo spent three years researching and demonstrating that the concerns professionals have had over the use of intraoral scans for removable dentures were in fact, not evidence-based.
In his research, Dr. Lo Russo states that he has not had any problems capturing data using TRIOS scans. With his work demonstrating and concluding that intraoral scans are feasible and accurate enough for dentures, at least or as much so as conventional impression procedures.
Benefit from his edentulous scan strategy
Dr. Lo Russo has graciously shared his scan strategy and notes to enable you to scan edentulous arches reliably and quickly. Download the step-by-step edentulous scan strategy here:
Edentulous Scan Strategy by Dr. Lo Russo
Scan strategy diagram