Come by the 3Shape's Midwinter Meeting booth to hands-on demo the just-released 3Shape digital solutions and workflows
This year, we are launching two brand new products: one for labs and one for practices. We are extremely excited about the two new solutions in addition to releasing the 2019 updated versions of Dental System, Clear Aligner Studio, and Implant Studio.
Hands on demos
Besides the two new solutions being launched, please, come by to hands-on demo the latest versions of our digital dentistry solutions.
Lecture series
Don't miss lectures by doctors: Alan Jurim, Barbara Jurim, Valerie McMillan (Cooper) Jonathan Ng, Michael Scherer, and Franklin Shull for insight and protocols to improve your dentistry. Lectures take place at the Hyatt Regency and the ACP Symposium.
Test drive 3Shape TRIOS MOVE
Bring expected treatment outcomes to life with 3Shape TRIOS MOVE and TRIOS excitement apps and get your patients motivated about their cases to help advance acceptance.

TRIOS MOVE, the hardware setup for the award-winning TRIOS, enables you to display scans and treatment designs up-close because of its movable screen and superior ergonomics. With TRIOS MOVE, you can enjoy the ease of always being able to position the set-up and screen in the right place for optimal comfort for both you and your patient.
Updated software!
Get the clear advantage with 3Shape Clear Aligner Studio
Rethink your practice's clear aligner workflow with 3Shape Clear Aligner Studio. This innovative all-in-one clear aligner software solution gives you the power to make clear aligners in your own office and lab.
With Clear Aligner Studio, you can quickly scan, design, and prepare files for production using one integrated workflow. And the 2019 updated version saves you time and increases efficiency with automated features, like ID tagging, attachment sizing placement, and much more.
Excite your patients with 3Shape excitement apps
Improve your patients' experience with 3Shape excitement apps. The apps are made for your 3Shape TRIOS scanner and enable you to do much more than take digital impressions.
For preventive insight – TRIOS Patient Monitoring
Scan every patient every time to accurately track changes in teeth and identify dental conditions sooner. Share visual monitoring information with patients to advance their understanding of issues and the need for treatment.
Grow your orthodontic treatments with TRIOS Treatment Simulator
Scan your patient and show their present dentition compared to the expected results of orthodontic treatment to gain greater case approval.
Show patients their future smile with TRIOS Smile Design
Take a photo of your patient's face and design their beautiful new smile in just minutes. Share the photorealistic results with your patient to align expectations and stimulate treatment acceptance.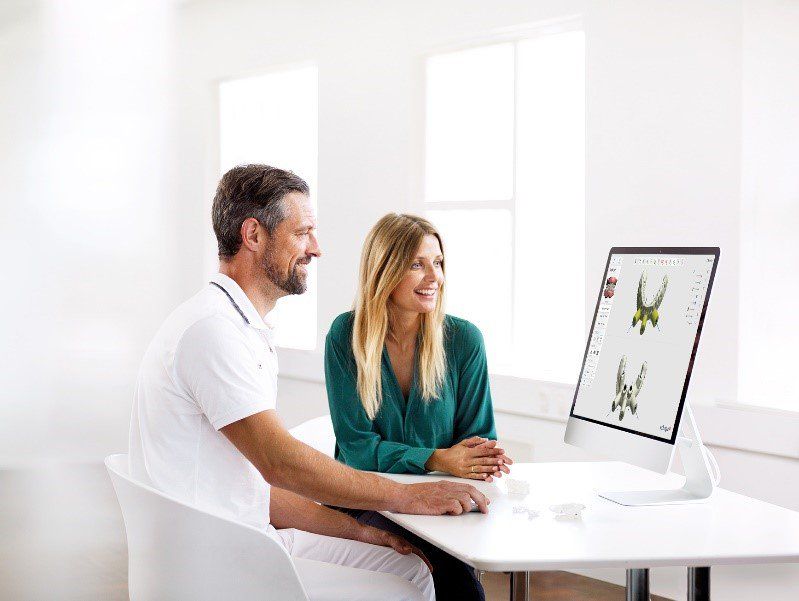 Perfect your restorations with TRIOS Patient Specific Motion
Record a series of different bite positions and highlight occlusal contacts for dynamic patient specific articulation.
Give patients remote access to their digital data with the My3Shape app
Allow patients to view their dynamic treatment proposals on their mobile device using the My 3Shape app and encourage them to share and discuss treatment options with family and friends.
Read more about 3Shape TRIOS.
New and improved workflows with 3Shape Dental System 2019
3Shape Dental System 2019 CAD/CAM design software introduces several new and improved workflows, including automated single crown and copings-design with just a click and significantly upgraded denture and splint design software.