3Shape Community just welcomed 10.000th member
This week, the 3Shape Community platform reached 10.000 members. We are glad to see so many engaged users and appreciate your support.
Free platform for doctors and labs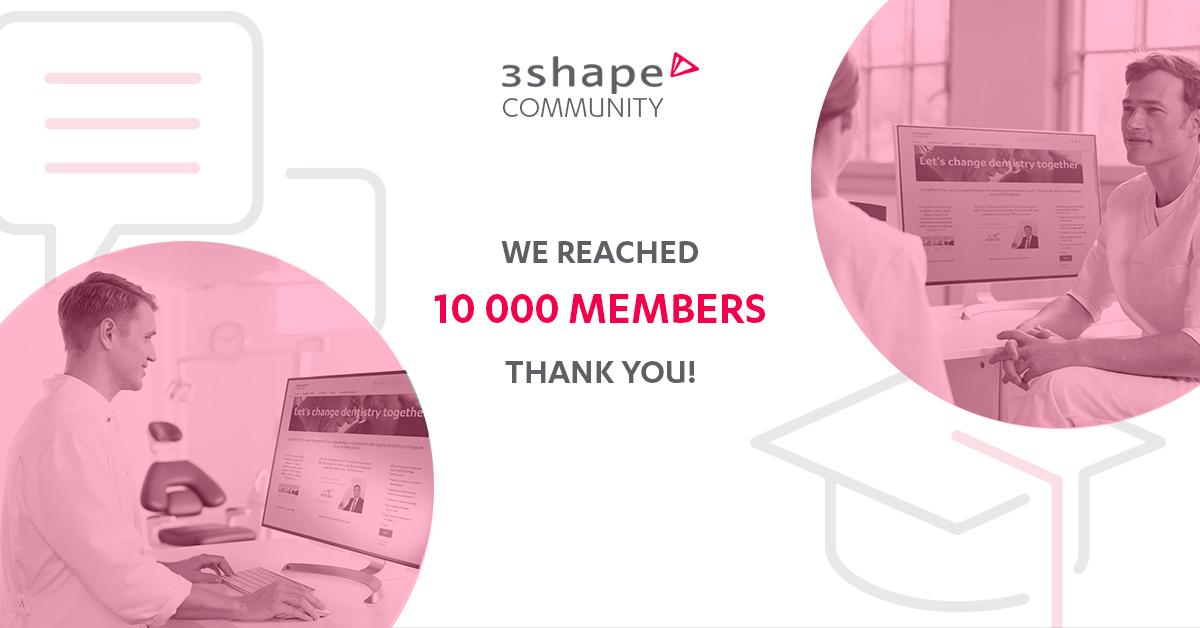 3Shape Community is an online platform for all 3Shape users. Signing up is for free for everyone that uses our products. On this peer-to-peer support platform, digital dentistry experts across the globe can ask questions and support fellow doctors and technicians with answers.
3Shape expert advice and training
Outside of users helping each other with new insights, experts from 3Shape also actively provide answers to user questions.
Members have access to a wide range of training materials, in order to enhance their skills. From training videos to exclusive how-to guides and case studies – every user can learn new tips and tricks or look up all upcoming classroom training and events.
3Shape Community also features a blog: a place that provides insights into digital workflows, ways of working and offers new inspiration to dentists curious about doing more with their 3Shape products.
Changing dentistry together
We are thankful for everyone who has joined the Community. Your contribution creates new digital dentistry knowledge every day. Your answers are useful for improving the work of colleagues across the world.
Dr. Nazariy Mykhaylyuk from Ukraine has been using digital technology for the last years and recently discovered 3Shape Community. 
"Everyone is looking for knowledge in digital dentistry – it's not that easy. Finding a place where you can really learn something is very valuable, so I can only recommend you join 3Shape Community to grow with us."
New features coming up
We have many useful new features coming your way from the 3Shape Community team. Stay tuned and visit regularly to get the most out of this free platform.
From the 3Shape Community team, a big thank you for your active participation – you have created a truly professional and lively Community. Let's change dentistry together – one community member at a time!
Not a member of 3Shape Community yet?
Do it now! It's for free and the ultimate way to boost your dentistry.