Since its beginning, digital dentistry has been thought of as a means for replacing analog workflows in the reconstruction of the dentition.
3Shape along with doctors like Jonathan L. Ferencz believe differently. Scanning technology has much more potential. It can be used as a patient and partner communications tool, for simulating and planning treatments.
At Greater New York Dental Meeting 2017 we're showing new solutions and workflows that we believe are changing dentistry. Solutions that begin with digital scans and end with so much more.
In a recent interview with 3Shape Co-CEO and Co-founder, Tais Clausen, he said, "Being digital as a dental professional, means you have options. And that means better, faster and multiple opportunities for engaging and caring for your patients. It also means that no matter where you are located, you've got the entire dental industry, a world of treatment options at your fingertips."
What to see at GNYDM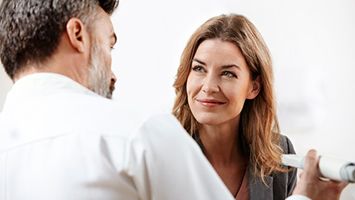 3Shape TRIOS Treatment Simulator is an exciting and engaging way to help drive patient treatment acceptance. The TRIOS Treatment Simulator shows patients the envisioned results of their orthodontic treatment. Patients see their current teeth alignment change into the ideal set-up, onscreen and in full color.
TRIOS Treatment Simulator is an open solution that can be used to simulate treatment with any of the 25+ orthodontic treatment providers TRIOS connects to, i.e., Invisalign, ClearCorrect as well as bracket-systems like Incognito and many more.
Using your 3Shape TRIOS intraoral scanner and the all-new 3Shape TRIOS Patient Specific Motion tool, you can now scan and record your patient's dynamic articulation.
Previously, it was possible to capture static occlusion and contact points to allow a virtual articulator to mimic and approximate the jaw movement. With the TRIOS Patient Specific Motion tool, you record a patient's real articulation with your TRIOS. This enables technicians to adjust restorations and orthodontic treatments based on the recorded patient's articulation.
The two new apps are free upgrades as part of CliniCare for all 3Shape TRIOS users.
Visit 3Shape at GNYDM, booth #2626 – November 26-29, 2017.