Allan Hyldal, 3Shape Vice President for Orthodontics, talks about the indirect Bonding module and how it cuts down on treatment time, patient visits, and simplifies the workflow for orthodontics:
"The new 2017 version of our 3Shape Indirect Bonding solution has added some game-changing features. Doctors that have seen it, as well as 3Shape, are extremely excited about the new software. It is really changing orthodontics.
The major change is that your workflow is now setup based and our Bracket Placement workflow now automates the movement of teeth for you.
So professionals using the 3Shape Bracket Placement module, simply first choose the bracket library and wires they prefer. Then with just a click, the software automatically adjusts your patient's malocclusion to create the ideal setup.
You can then make any small adjustments to the setup you prefer, which the software correspondingly changes in the bracket placements. Doctors with their own vision for ideal setups can save preferences to always create that setup.
So whether you are an orthodontist in Europe who prefers raised laterals, or you're looking for a Hollywood smile, you choose your ideal setup for that patient and the software creates the bracket or even aligner treatment for you.
In essence, you are starting your workflow based on the ideal setup. The software creates it for you and you make any minor adjustments needed.
Using our 3Shape Bracket Transfer workflow, you or your lab partner can then create the transfer media to bond the physical brackets in the patient as well.
This means a totally digital workflow beginning with a 3Shape TRIOS intraoral scan, or a physical impression scanned with a 3Shape lab scanner.
Widest selection of integrations
Now having an indirect bonding application is not much use if you don't have the manufacture libraries to support it. This is where 3Shape's is also vastly different from the competition. We have the largest selection of original manufacturer bracket libraries available, including an exclusive agreement with the USA's largest provider, American Orthodontics.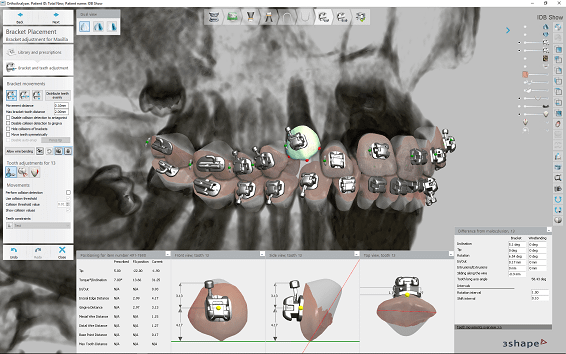 So the Indirect Bonding module opens so many doors of opportunity for your office. In addition, our extensive bracket libraries are also complemented by interoperability with the widest selection of orthodontic solution providers like Invisalign.
Start exploring 3Shape bracket library integrations and 3Shape orthodontic solution provider integrations right now!
Customization
3Shape's indirect bonding solution is an automated workflow with you in charge. If you adjust a tooth in the setup, the software automatically adjusts the corresponding bracket and wire setup. The adjustments you make to the teeth are made to the brackets before they are even placed in the patient.
Automation also enables the entire team to work together more efficiently. The doctor and the lab can divide the workflow as they see fit.
With our indirect bonding solution, it is possible to save your change and share the edit with your partners anywhere in the workflow. A doctor that is focusing on chair time can have assistants do the initial teeth movement because it is automated and then review the case and make any adjustments they see fit. If the doctor decides, upon receiving the prescription from a lab, to make some edits he/she can do it and send the edited file to the lab. It's simple and it's fast.
Lastly, when it comes to actually placing the brackets, that's been made more efficient too. We have workflows that work with any manufacturing equipment. Regardless if it's a printer, vacuum press, or you are working with bio or non-bio compatible materials, there is a workflow for it.
Fewer appointments, shorter treatment time – the advantage of indirect bonding
Studies have documented the advantages of digital indirect bonding
1,2,3
. But orthodontists tell me that two of the most important benefits of indirect bonding are improved treatment and cutting down on patient visits.
In a conventional workflow, you cannot take an analog impression of a patient with brackets on. So you need to wait until the brackets are removed to take an analog impression. Only then, can you design and manufacture the retainer. This creates a conservative, one and half week waiting period for the new appliance to arrive. During this time, the patient's teeth have already begun to move back into malocclusion.
Now instead, using digital orthodontics and our TRIOS intraoral scanner, you take an intraoral scan with the brackets still on during the patient's second to last visit. You then virtually remove the brackets in the module and sculpt your retainer based on that.
Now you are creating the retainer before the patient even has their brackets removed. The patient receives their appliance the same day of the bracket removal and avoids any relapse. The result for you is a saved visit and for your patient, a better and more effective treatment.
References
1. Effectiveness and efficiency of a CAD/CAM orthodontic bracket system: Matthew W. Brown, Lorne Koroluk, ChingChang Ko, Kai Zhang, Mengqi Chen, Tung Nguyen.
2. Indirect bonding: a technique for precision and efficiency: Guenthner TA, Larson BE.
3. There were no complaints or returns regarding retention.
*Contact your reseller regarding availability of 3Shape products in your region or country.