Founded in 1970, the Bongert laboratory is one of the leading dental laboratories in the French market with a focus on quality and innovation. The lab is unusual in that it provides a wide range of prosthetic, restorative as well as orthodontic treatments. A family-owned company, Bongert delivers more than 75,000 cases per year for 400 clients. 3Shape spoke with Pascal Bongert, the lab's manager, Yannick Gourrier from the CAD/CAM department and Pascal Lorieul from its orthodontics department. Pascal Bongert has worked in dentistry since the 1980s. He took over the lab from his parents in 1999.
Pascal Bongert (lab manager): Bongert laboratory is a lab with a family structure. I've been interested in digital technology since the works of Mister Duret because I myself had a passion for computers. The first case management system appeared in the lab in 1986. In the early 2000s, CAD/CAM became an essential component of our manufacturing processes.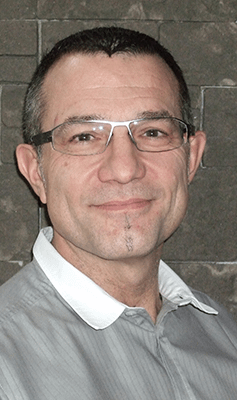 Why did you choose 3Shape? What made it stand out for you?
Pascal Bongert: First, there was the question of quality, what could be expected in terms of results. The second criterion was to choose a scalable system that would open new possibilities in prosthetic restoration for us. 3Shape's Dental System gives us this opportunity. For me, an investment should be done with a company that is future-proof and performs efficient R&D that ensures its longevity.
What about in terms of your technology needs?
Yannick Gourrier (head of the CAD/CAM department, 3Shape beta tester): At the time, when the first 3Shape systems were introduced in the lab, we were mainly focused on the digital development of fixed prosthetics. We then compared all the specialized software for removable available on the market. We felt that Dental System, with its RPD module, would be one of the most powerful solutions for this type of restoration. It still is.
If we talk about RPDs, what are the benefits of the digital workflow compared to traditional?
Yannick Gourrier: Today, digital tools allow us to produce better and more while ensuring consistent product quality.
Indeed, with traditional techniques, we multiply manual steps and thus the risk for error is increased. Whereas today, with CAD/CAM, we reduce these risks and have the possibility to control the entire process: from digital impression taking in the patient's mouth, plaster casting, model scanning, and CAD design up to the impression of the denture by laser sintering. We design and we manufacture in-house using 3D printing, so we can control the whole production chain and the output quality inside the lab.
Pascal Bongert: One should never cut back on the restoration quality expected, it should always be higher, always bring more value. We should always remember that everything we manufacture is for a patient. The patient is at the heart of our projects.
Has digital technology improved communications with dentists and other partners?
Yannick Gourrier: Yes, significantly. Buying a CAD/CAM system also means acquiring new communication tools. It facilitates the exchange of information with dental practices, clients and prospects, as well as our partners on technical opportunities and prosthetic works. It even encourages some of our clients to purchase new intraoral scanning equipment.
Does your lab work with TRIOS scans?
Yannick Gourrier: Yes, and I would like to mention that before we even started working with TRIOS scans, we successfully completed the TRIOS Ready program. For each new technology, we are certified by the manufacturer to be authorized to use it properly. It guarantees quality and ensures sustainability. Just the same as for a car, you cannot drive without having a license.
Did the transition to digital goes smoothly for you and your staff?
Pascal Lorieul (head of the Orthodontics department): It has been exciting for us to see the changes in our profession, follow the product developments and optimize the prosthetic results. We gave our motivated employees a possibility to learn to use new digital tools, which subsequently helped to transfer skills, create new products and new workflows. It also opens new career possibilities and generates employment.
Yannick Gourrier: We adapted very quickly to digital methods. Given the fact that we have used CAD/CAM equipment for more than 15 years in the lab, and due to the advancement of digital technologies in dental practices, the transition was obvious for us. It's been a driving force of our evolution, something that is now essential to our profession. We felt like we had to get on that train before it even took off.
How do you see the future of your lab in terms of technological development and CAD/CAM's role in helping you face new challenges?
Yannick Gourrier: The fact that we use machines and digital production balances out the market: a machine has more or less the same cost everywhere. This allows us to strengthen local production and, for the practitioners, to benefit from a wider range of products and even better quality.
Pascal Bongert: I am convinced that today's dental world is changing and it will continue to shift towards more digitization at all levels. Labs and dentists should follow this trend to become even more efficient tomorrow and to provide even better products and services. So, for me, the lab and all its staff, it's the way to go. CAD/CAM opens new possibilities and raises new challenges. It also makes the market more accessible and removes barriers, since the flexibility of a digital file allows it to cross borders much faster than a person.
What advantages does CAD/CAM bring to orthodontics?
Pascal Lorieul: Bongert Lab was among the forerunners of digital orthodontic models as a replacement for the plaster ones. We were among the first in France to do this. Now we work with Ortho System and consider offering aligner treatments, which are hard to implement with traditional methods. This digital solution allows us to be much more precise. The planned teeth movements are thus more accurate and, even after the model has been manufactured, the position of the tooth corresponds perfectly to what was initially scanned in the patient's mouth.
The majority of our patients are children, but with these aligners, we can treat adults, too. Ortho System becomes more advanced, offering various new appliances, which we will integrate into our orthodontics line. For instance, I am thinking of the indirect bonding method for brackets that is now available in the software.
Are you now more productive and efficient?
Pascal Lorieul: More productive, yes, and more efficient, surely, because digital technologies provide more viable results. As long as you are more precise in your measurements, especially regarding orthodontic appliances, the treatment outcome is more reliable.
What about in terms of reducing production costs and time?
Pascal Lorieul: Yes, I think that they will be optimized to. We will need to see over a period-of-time for evaluating the production experience.