How did you begin with digital dentistry?
When I was a dental student at Columbia University in New York City, we had a CEREC 3 in our clinic. We later upgraded to the CEREC 3D and a chairside mill. We also had a department called SimLab where we learned how to prepare teeth for restorations on a simulation model that was completely digital.
That's when I was first introduced to digital dentistry. This is in 2002 and 2003, I was a third year dental student and lucky to be part of the movement where digital dentistry became incorporated into dental practice.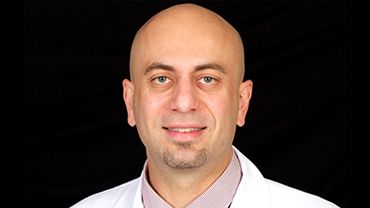 What is your present set-up?
Nowadays, I treat patients at the Glidewell International Technology Center (Newport Beach, California). I also have my own private practice. (Irvine, California)
What is interesting about treating patients at the Glidewell International Technology Center is that it has given me access to practically every intraoral scanner on the market.
For me, TRIOS is hands down the best scanner out there, and the software is extremely robust and a powerful tool. As a result, I default to the TRIOS because we do a lot of precision-type of work with guided surgery.
I've been using the TRIOS Standard for the past four years, which has been very accurate.
Recently though, we also recently got our hands on a TRIOS 3. I'm very excited to work with a scanner that's at the cutting edge of technology like the TRIOS 3. Because of its features, TRIOS allows me to communicate treatment with the patient immediately after an intraoral scan, as well as simply send preparation data and true teeth shades to the dental laboratory. There are many advantages.
"For me, TRIOS is hands down the best scanner out there, and the software is extremely robust and a powerful tool."
Why digital?
Digital solutions, especially TRIOS, offer improved accuracy by eliminating the distortion that can occur with conventional impressions. So the choice to work digitally is an easy one for me.
By combining the TRIOS intraoral and CBCT scans, I use the data in 3Shape's Implant Studio software to create our surgical guides for fully guided surgeries. This has been a key for me in being able to provide minimally invasive dentistry to my patients.
In addition, an important factor is the time I save with diagnosis and treatment planning of my complex cases.
With traditional techniques, a full mouth wax up would take me a one to two days to complete based on complexity. The 3Shape software allows me to complete a full mouth wax up in an hour or less.
It is amazing how far technology has come and 3Shape has been at the forefront.
Do you use TRIOS because you work with Implant Studio, or is it because the scanner is i.e., faster, accurate or easier to use?
I would say all of the above.
A lot of the work I publish through Glidewell's magazines are driven by the 3Shape clinical and lab software. Clinically, I like the TRIOS because of the scanning protocol where each scan is physically tied into the next scan as you go in a sweeping motion across the arch. So the information being picked up is almost streaming, if you will. It's also advantageous that the software is very user friendly and takes the clinician through a step-by-step workflow.
TRIOS is designed to be very intuitive. Because of that, I think, out-of-the-box, anybody can press the power button and automatically start using it.
Have you considered a practice lab solution for your own clinic?
We haven't incorporated a practice lab solution at our clinic in private practice as of yet. I think there has been an overflow of printers and mills being released as of late. I am waiting for the market to settle down and then go with the best one.
For me, an ideal practice lab set up would be with the TRIOS intraoral scanner and a particular mill I have in mind right now.
I prefer not to have a self-contained set up, or a closed system, as some companies offer. I would rather have more options. I don't want one company controlling everything because obviously, they could drive prices even higher and that's not something consumers are really interested in.
Everybody has a bottom line and I think for dentists it is getting even tighter and tighter in the United States with managed healthcare. For individual dentists it is very challenging to invest in systems like this. So I prefer the option to pick and choose the components I want to work with.
Siamak Abai DDS MMedSc, Prosthodontics, Implant, Reconstructive, & Aesthetic Dentistry
Siamak Abai DDS MMedSc is a graduate of Harvard University's Advanced Graduate Prosthodontics program with a Master's degree in Oral Biology and Prosthodontics. He received his Doctorate of Dental Surgery degree from Columbia University College of Dental Medicine, followed by two years of Advanced Education in General Dentistry training at the Columbia University Medical Center. He is the Director of Clinical Research and Development at the Glidewell International Technology Center, involved in the advancement of guided implant surgery with a focus on an all digital workflow from digital treatment planning to final prosthetic design. Dr. Abai also practices Implant, Reconstructive, and Aesthetic Dentistry in Irvine, CA. www.SmileOC.com