Dental System™ 2016 has added some very cool new features to help you boost your dental lab's production and make your job easier. We've made designing faster and more intuitive while increasing software reliability. Dental System™ 2016 introduces several new workflows and functionalities as well as a completely rewritten application for impression scanning. The new impression scanning algorithm will quickly cut steps in your dental lab workflow. So much so that you might as well start trading in your gypsum-only model scanners. You no longer need them.
Impression scanning – the future is now
Impression scanning is now a reality and your future – no more waiting for models to set and no plaster inaccuracy. The new impression scanning software eliminates the need for you to pour gypsum models. Scan each side of a triple tray in less than 30 seconds and single trays in 75 seconds. Scan analog impressions and go directly to the CAD design – a workflow step-saver that can reduce your crown turnaround time by nearly one day.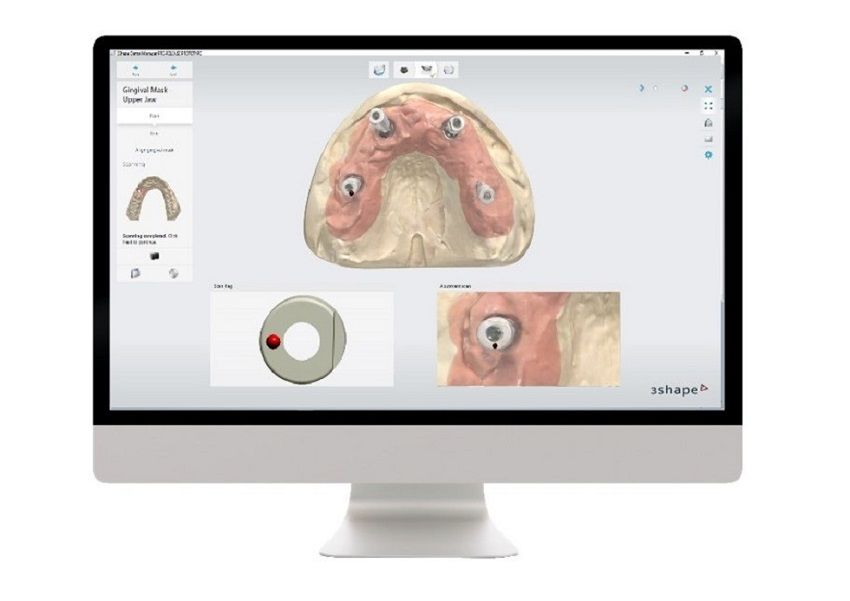 Accelerated speed and performance of the D500, D1000 and D2000 lab scanners
New optimized processing eliminates the waiting time between creating an order and starting your scan. Speed on the D500, D1000 and D2000 has increased by 20%. You can scan full arches in 20 seconds. New improved scanning workflows make scanning much smoother and more flexible for many indications.
Free Scanner Repair included with 3Shape LABcare™
As part of 3Shape LABcare™, you now get five years free repair on 3Shape lab scanners bought after June 6, 2016. Offer valid for lab scanners with Dental System™ Premium software (sold with D500, D750, D850, D900L, D1000 and D2000 scanners) and for five years after purchase.
Increased stability for large cases such as implant bridges
Dental System 2016 has been optimized for robustness and handling of large cases such as implant bridges as well as for using visibility sliders. You can now quickly move between teeth and jaws as you design in Smile Composer™. New algorithms make it easier and faster to select smiles from more than 50 Smile Libraries.
Integration with TRIOS® and 3rd party IOS
As a truly open system 3 Shape has optimized the import of TRIOS® and 3rd party IOS scans You can also import PlanScan and 3M True Definition digital impression scans and use them for designing models in Model Builder™. Import of Sirona scans (3se files) is now free (except in the USA) as part of LABcare™.
Robust crown design engine for fast and intuitive design
Move rapidly between teeth and jaws in Smile Composer™ as you design. New algorithms make it even easier and faster to select smiles from more than 70 Smile Libraries. Strengthened mirroring functionality lets you easily model the anatomical design of a corresponding tooth with perfect symmetry and esthetics.
New exclusive signature libraries from Lee Culp (USA) and Jan Hajto (Germany)
Take advantage of highly professional signature libraries created by recognized masters of esthetic and functional morphology design like Lee Culp (USA) and Jan Hajto (Germany).
RealView™ with 2D Overlay
Create beautiful esthetics with 2D design overlays by overlaying dental golden proportions and teeth outlines to guide your design – compatible with the RealView™ Engine.
RPDs and full dentures made simple
Use virtual crowns to guide your framework design and achieve optimal stability and esthetics. Apply metal dummies and metal backings by turning the virtual crowns into metal dummies or anatomically reduced teeth completely merged within the framework. Easily define and share configurations of framework design settings with technicians or other labs.
Improved design of multi-unit abutments, implant bridges, secondary bars, implant planning and surgical guides
Now you can design using angled multi-unit abutments in Abutment Designer™ and achieve an optimal fit for implant bridges and bars. Start providing complete implant services to your customers – planning, design of abutments, crowns, bridges, secondary bars and surgical guides for all major treatment types including edentulous using Dental System and Implant Studio.