Every year LMT magazine in its "State of the Industry Survey" takes an in-depth look at the key trends impacting laboratory operators.
One of the questions in this year's survey asked lab owners to rate the top challenges they face from dentists.
We've broken down each of the labs' top complaints and come up with the perfect solution.
Headache #1 - 47% of labs say dentists' impression taking skills are their biggest challenge
Forty-seven percent of the surveyed labs rated the lack of quality in the analog impressions they receive from dentists as their biggest challenge. In fact, labs reported that 25% of the traditional impressions sent from dentists are inadequate.
The trouble that means labs having to call the dentist for a replacement impression and in turn, stressing customer-relations. Although 94% of the labs reported being comfortable with having to make the routine phone call, it still puts pressure on an always-fragile business relationship. Not to mention the dentist-patient relationship.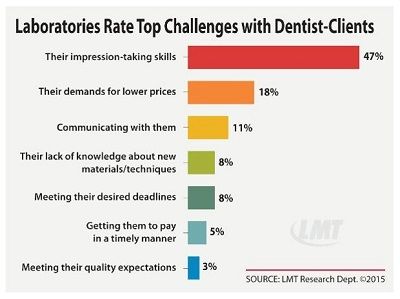 The solution: CDT, Date Dobbs, says, "TRIOS® accuracy has basically eliminated remakes in our laboratory. And allows us to feel confident that every case is going to fit: contacts, occlusion and color now."
Digital impressions are the solution because they are more accurate and easier to work with. They don't break, distort or take up any storage space.
If labs want to cure their biggest headache, make sure your dentist-clients are using an intraoral scanner and sending you digital impressions instead of snail-mailing conventional impressions.
Headache #2 - cutting costs
Number two on the survey's list of labs' top challenges is "cutting costs." Price competition is nothing new to dental labs but the means to combat it is.
The solution: Labs equipped to receive digital impressions and using CAD/CAM can potentially be more productive. They can, therefore, provide restoration services at lower prices than traditional labs while maintaining a high level of quality. Lower production costs, reduced storage and shipping costs, all translate into lower costs for the customer.
In an interview with the owner of Schmidt Dental Lab in Denmark, Sune Schmidt, he said, "delivering, for example, model-free crowns has managed to separate us from the pack. It is basically, the first time in history that you are able to produce a crown so fast and this cheap in Denmark and competes with overseas labs. The accuracy, low price, and speed of delivery have become our lab's strongest selling points." If you are aware of Scandinavian prices then you know that this is no small feat.
In the words of CDT, Lee Culp talking about TRIOS®, he says, "We can do things faster. We can do things cheaper. And the communication during all that is unprecedented in what we have ever done.
If your clients are sending you digital impressions the opportunity to create cost-efficient model-free crowns is there. You can also alternatively scan analog impressions but going instead, with a completely digital workflow, as Schmidt Dental Lab has demonstrated, is most cost-effective. Make certain your dentist-clients are using an intraoral scanner.
Headache #3 - communications
Number three on the survey list is "communications."
In the LMT story, labs gave an example of educating clients who routinely send poor impressions by emailing photos to illustrate the problem areas. An extremely time-consuming procedure. The idea of having to go back in forth with mailing or shipping traditional impressions and case models, drawing arrows on JPGs, seems almost archaic.
The solution: One of the most important advantages of digital impressions is improved communications, especially with TRIOS®.
TRIOS® has a built-in dentist to lab communications app, aptly titled 3Shape Communicate™. With Communicate™ you send cases, including the IO scan and case information like margin lines, shade measurement, etc. with just a click. You can also send TRIOS® scans directly to orthodontic appliance solution providers like 3M Incognito™ with just a click as well. It certainly beats snail-mailing impressions, models and emailing JPGs with notes attached.
Plus, being able to discuss cases digitally onscreen with technicians is a much more effective way to communicate.
When talking about 3Shape Communicate™, CDT, Lee Culp said: "Our results have never been better. And our communication is ultimate because we communicate in 3D and not just over the phone. I can go on my phone with 3Shape Communicate™ and see one of the cases he's got a question about. Wherever I go in the world, I am always connected to dentistry, digitally." Adding, "To have all that information in a laboratory, just joins me with the doctor and patient so much closer."
Headaches #4 & 5 - lack of knowledge regarding new materials and techniques and meeting case deadlines
Numbers four and five on the list of gripes are dentists' "lack of knowledge regarding new materials and techniques" as well as the lab's ability to "meet case deadlines."
Nowadays, many restorative component-makers are developing products built specifically for CAM milling.
The solution: For dentists to keep up to date on the newest materials available, they need to by default, embrace CAD/CAM restorative components just to stay current and offer their patients the newest and best restorative component options. Labs can act as CAD/CAM consultants and help dentists stay abreast of technology advancements. This is also a great way for labs to get even closer to their clients and nourish customer loyalty.
In terms of helping labs to meet case deadlines, the difference between an analog and digital workflow is best illustrated by its huge disparity in workflow speed.
Headache #6 – paying in a timely manner
The sixth gripe labs had in the survey, is one we, as a technology development provider, unfortunately, offer no cure for: "getting dentists to pay in a timely manner." For this, there is no cure.
Headache #7 – meeting quality expectations
The labs' last complaint referred to "meeting quality expectations."
http://onlinelibrary.wiley.com/doi/10.1111/clr.12600/abstract
The solution: The proof is in the pudding when it comes to meeting quality expectations using digital. You just have to look at the thousands of perfect fitting crowns, other restorations and orthodontic appliances being made every day by labs with TRIOS® impressions. It works!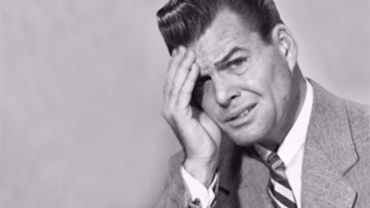 In the words of NYC prosthodontist, Jonathan L. Ferencz: "My patients get it, my staff gets it; I get it – go digital!"
As a lab, if you value your relationship with your dentist- clients and your own health, you owe it to yourself to convince dentists to go digital with TRIOS®.
If they won't convert for your sake, get them to change for their patients at least.
A recent study* by the University of Bern in Switzerland on patients' preference for digital over analog impressions concluded: digital technique emerges as the most preferred one according to patient-centered outcomes and was more time-effective compared to conventional impressions. In fact, 100% of the patients that took part in the study preferred digital as opposed to conventional impressions.