Tons of new features that will boost your productivity and the range of services your dental lab now offers.
Upgrading to Dental System™ 2015
3Shape users can upgrade to Dental System™ 2015 as part of your LABcare™ subscription. If you are not yet a subscriber, please contact your local 3Shape supplier, or contact a 3Shape reseller.
3Shape Dental System™ 2015 Highlights:
Upgraded D-series scanners and two new models – D2000 and D1000
3Shape upgraded its D-series of dental lab desktop scanners and introduced two new models along with the release of Dental System™ 2015. The upgraded benchtop scanners along with the two new models feature improved ISO-documented accuracy and multi-line scanning – a breakthrough scan technology that increases scanning speeds upwards of 30%. The new D2000 in addition, features a larger interior coupled with "all-in-one" scanning to reduce handling time for dental labs by 40% and enabling technicians to scan two models at once.
New scan application
New applications and algorithms in the software enhance performance across the complete line of 3Shape lab scanners. The new scanning application facilitates significantly faster scanning through efficient post-processing in the background. A new user interface also enables technicians to choose the order of scans e.g., scan the die first.
Third party integrations
Dental System™ 2015 is now integrated with leading third party dental product-makers to enable the importing of intraoral scans including case information, i.e., margin line and case order form. In addition to more restorative component and design libraries added. Names of the partnering brands will be disclosed shortly in upcoming press releases.
Smile Composer™ 2.0 now integrated with Sculpt Toolkit
Dental System™ 2015 enables technicians to combine two steps in one. Choose from the full range of tools that were previously split between Smile Composer™ and the Sculpt Toolkit – and use them in any order. Smile Composer™ gives technicians the option to add/remove material and to automatically connect crowns to the margin line. A new smile library selector makes it easy to choose the best smile library for the clinical situation.
Design positioning guides for placing abutments
Create custom-designed positioning guides that can be milled and printed. Position guides are used to ensure accurate positioning during prosthetic placement.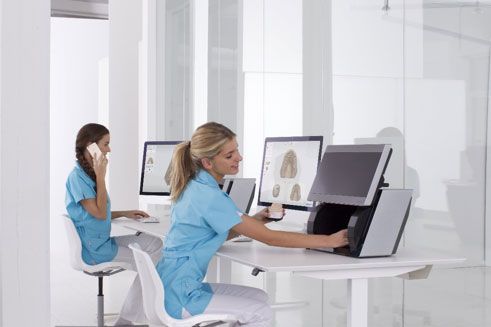 Digital dentures
Denture Design™ is available as an add-on to Dental System™ 2015 and stand-alone module. It enables labs to create dentures digitally in fast and accurate workflows. Denture Design™ includes unique tools to improve den­ture occlusion and function. Initial clinical tests have confirmed the improved clinical performance and the possibility of reducing both chair time and the number of visits required for denture patients.
Scanning optimized for dentures - Scan gypsum models (upper, lower, wax-rim) or impressions (centric, single trays).
Model analysis for easy denture planning – Simply analyze the model ensuring optimal tooth selection and place­ment.
Fast and easy placement with Smile Composer™ - Effortlessly set all teeth, adjust upper, lower, and selected blocks while preserving occlusion.
Better dentures with new model analysis tools - Click on specific anatomical points directly on the 3D model and au­tomatically get suggestions for optimal teeth libraries and placement.
Flexible manufacturing methods - Extended support for a wide range of manufacturing methods including mono blocks for moulding. Create the gingiva base matched to the denture teeth and ready for 3D printing or milling including basal reduction.
Customized impression trays
Create customized impression trays using CAD/CAM that are shaped and matched to the clinical situation. The impression trays can be printed out on a wide range of 3D printers and materials.
Scan and design sharing with 3Shape Communicate
3Shape Communicate™ makes it easy for labs and dentists to upload, share and access cases from anywhere, and share them seamlessly with colleagues and design services.
Connectivity that eliminates the need to export and import cases when working on different computers and at different locations.
Improved order form workflow - Change a case in the order form
Technicians can now change material and indications during designing without losing any case information. The upgraded Order Manager includes a simplified interface and combines all digital patient case information and ef­ficiently organizes all lab orders for guided workflows and easy management.