Experience complete digital dental workflows
3Shape staff will present our latest CAD/CAM software and lab scanners. Discover how you can take advantage of the full power of the 3Shape ecosystem in your digital dental workflows. Chicago visitors will experience firsthand the many restorations and orthodontic design possibilities, indications, digital models, splints, implant planning & surgical guide design, orthodontic analysis, planning, and appliance design, plus the entire range of new service options enabled by the markets most powerful dental CAD/CAM solutions.
3Shape desktop lab scanners
We are introducing groundbreaking technologies to our desktop lab scanners to deliver revolutionary performance and productivity. Advanced technology that will make your scanning much faster and accurate.
Come and see the new technology and check out our popular workhorse models that have been upgraded.
Dental System™ 2015 CAD software
3Shapes new Dental System™ 2015 includes new dental indications, optimized workflows, and a new modernized user-interface. Plus we have implemented several new third party integrations and libraries to open up loads of new business opportunities for you.
We have also added faster workflows, more automation, and powerful validation tools. Finally, we have boosted scan speeds and improved the integration with CAM software.
The new Dental System™ 2015 software is provided as an upgrade for 3Shape Dental System™ users as a part of their subscription and LABcare™ package. If you are attending the event, please come by our booth (Booth #1643) and demo Dental System™ 2015.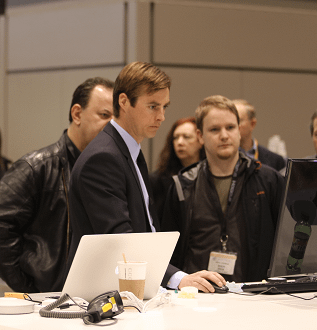 TRIOS brings more power and more opportunities
Try your hand at intraoral scanning and experience how easy it is to create lifelike digital impressions in color, measure teeth shades and take HD photos with 3Shapes TRIOS. Dr. Sonny T. Oliva of New York City recently said, "TRIOS is the most powerful and efficient system on the market." See why.
Our products will be set up to simulate real-life configurations, demonstrating how TRIOS allows dentists to utilize complete digital workflows together with either their in-house lab or their external service lab - or both.
Dentists can take HD Photos as you scan, and use these for easy margin line detection, case documentation, and patient discussions.
Automatically indicate teeth shade measurements while you scan and after.
Enhanced detail capture provides more details in the scan, particularly around the margin line.
Automated bite registration with TRIOS.
Support for implant bridges cases, removable partials and much more
Take advantage of Implant Studio™ - now in the USA!
3Shape Implant Studio received USA FDA approval back in November 2014. Be the first to see how Implant Studio™ will help your lab and practice expand your services.
Leading prosthodontist and 3Shape Advisory Board Chairman, Dr. Jonathan L. Ferencz commented on what 3Shape digital technology has brought to implant planning by saying, "The difference digital dentistry has made to making a crown is tremendous. But the difference it has made in implant dentistry is night and day!"
Solutions for Orthodontics
3Shape has enhanced its digital solutions and workflows for orthodontic professionals in both practices and labs. Come and see how to improve your orthodontic analysis, treatment planning, digital archiving and CAD appliance design. Discover how you can now share TRIOS digital impressions and case information directly to orthodontic solution providers like Incognito™ by 3M, SureSmile by Orametrix and many more. Plus check the deep integration with TRIOS Ready orthodontic labs enabled with just a click from 3Shape Communicate™.
Pioneering innovation to be unveiled on opening day
3Shape prides itself on always being at the forefront of innovation, and in tune with its traditions, we will reveal some entirely new and unannounced 3D digital technology features on the opening day. Be sure to pay us a visit.
Midwinter Meeting
McCormick Place, Chicago
Booth 1643