Simon Kold from Herning Implant Center has worked with the TRIOS scanner since 2011, and for him, there can be no going back to traditional impression taking. Simon believes that his preparations and final results have improved significantly since he started working with TRIOS. The technology has taken his business to new heights. As Dr. Kold says: "Intraoral scanning helps me give patients better dental treatment."
What initially made you move from traditional impression taking to digital impressioning?
Our clinic has been working with guided implant surgery since 2005. With the emergence of new technologies, we saw huge potential in combining digital impressions with CBCT scans to ensure both accurate and esthetic implant treatment. After trying various intraoral scanners on the market, we finally found the best choice in terms of consistent accuracy and adequate detail in the scan. Today, we use the 3Shape TRIOS digital impression solution for most types of cases.
What made TRIOS stand out for you?
It was mainly because it was so easy to use. With many other intraoral scanners I tried, I needed to keep my hand completely steady while scanning. The slightest movement, of the patient or my hand, was enough to make the scan useless for clinical work. I would have to start over from the beginning. TRIOS lets you move more naturally. You can stop and then start up scanning again from the same place, and you can even rescan selected areas and merge them back into the complete impression picture. All of this makes it much easier and faster to get good impressions every time.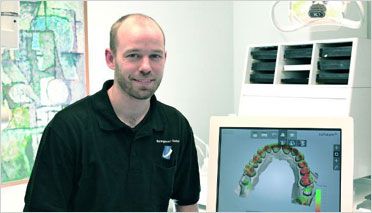 What about digital impressions in terms of accuracy?
Shortly after we started using the TRIOS system, I successfully com­pleted an upper-jaw reconstruction using 14 new teeth – all based on digital impressions. Both scanning and the whole workflow with the laboratory functioned smoothly and during seating, all 14 teeth slid in without making any adjustments.
To be on the safe side, I also took a traditional impression during the process. Later, out of curiosity, I sent the physical impression to the lab and asked them to assess its precision in relation to the scan. The labora­tory estimated that the sources for er­rors had been reduced by up to 70%. Even half of that would have impressed me.
Was it as easy for your clinic to adapt to the new technology?
One thing that surprised me was how excited everybody was about working with the new technol­ogy. It clearly boosted the staff's professional self-esteem. Today, I can really see how the change has made a difference for our clinic. Installing and using the digital impression system has developed us, made us better, and is still moving our business and careers in new directions. The technology catches the attention of patients as well - they ask questions and seem impressed. I think that they like the idea of being treated by a top-modern facility with the best equipment.
What was the learning curve like?
Naturally, our staff had to learn how to scan opti­mally for specific cases. Like any new tool, the more you work with it, the better you get. The first day we received the system, we scanned six patients in a row with 3Shape experts giving instruc­tions. After that, we were ready to work on our own. Here at our clinic, assistants scan as often as a dentist because the TRIOS system is so intuitive.
As an experienced user of intraoral scanning, what do you see as the key advantages?
Digital impressioning gives me many advan­tages, and some systems include a few benefits that go beyond just taking an impression. In general, digital impressioning avoids uncertainties and potential errors that can come with traditional im­pression taking and casting in plas­ter. Precision becomes significantly higher. But there are other advantages that come with the technology. Things that I can do while I am taking the impression rather than as extra steps. For example, with TRIOS, I can take shade measurements as I scan and snap HD photos for capturing important details that help the lab make a better restoration for my patients. The impression's colors are amazingly lifelike and I use the 3D image to discuss treatment with patients.

Does digital impressioning make you a better dentist?
It's always been challenging to de­fine an adequately precise margin line and this increases demands on the dentist's preparation skills. Now I find it easier to assess the quality of my impression because I can see the preparation right away in 3D and in high definition photos that I take with the scanner while scanning.
The complete digital workflow that TRIOS enables makes us a better provider of implant cases, which represent our core business. The digital impression merged with CBCT scans are used to virtually plan implant positions, model the restoration, and design low-cost surgical guides that can be output digitally on a 3D printer. The digital method enables us to offer patients guide surgery treatment that is faster and cheaper so that more patients can afford implant solutions.
Does the technology give patients any cost benefits?
One great option with TRIOS is that we can make model-free crowns in full zirconium and e.max. Skipping the physical model makes the whole workflow faster and cheaper, giving us an alternative to conventional crown treatment, which can accommodate a large group of patients which oth­erwise would have chosen a com­posite reparation to save money.
Do you have any advice for dentists still considering digital technologies?
Yes. Don't wait. Start now so that you are ahead of the game. Yes, it is a significant investment, but one that saves time, costs and most significantly, it will help develop the clinic's image, dental skills, and business success. That's how it worked for us. Labs and schools all over are starting to train technicians to be completely dedicated to CAD/CAM and workflows using digital impressions. Soon, all labs and clinics will be working digitally because the technology is making a difference. You do not want to be left behind.
Dr. Kold studied at the Department of Dentistry at Aarhus University with his wife Louise. Together, they started Herning Implantat Center in 2006 - a referral clinic for surgery, implantology, and major prosthetic constructions.
The center currently has 18 employees with a permanently attached anesthetist, anesthetic nurse, and dental laboratory. It has provided implant treatments for more than 20 years.
Dr. Kold is a popular and active lecturer, delivering seminars at leading dental industry events around the world.