CAD/CAM has made a major difference to your dentistry and your patients, how so?
The first time I really experienced the difference CAD/CAM made for my patients was with one patient, a very successful partner at a well-known architectural firm.
He came in on a Friday afternoon around 2 PM and said, "John, I'm very sorry to bother you, but the crown on my front tooth just cracked. I've got a really important dinner tonight with clients, and I'm going away on a 14-day ski trip with my family. If I don't make the trip, I'm in trouble. If you made me a temporary, I would be most appreciative."
His crown was in two pieces. I told him that I believed that we could do more than just make him a temporary. I thought we could make him a new crown with CAD/CAM and the lab, which, of course, he didn't think was possible.
I took the broken piece and slipped it back into his mouth – it fit perfectly like a jigsaw puzzle. And had my assistant do a pre-prep scan.
Then I took the broken piece off. I gave the patient a little Novocain and grounded away the piece that was still cemented. I placed a cord and scanned the prep with our 3Shape TRIOS. The technician in the lab then designed and milled him a new crown. Ninety minutes later, he left with a final crown and not a temporary one.
As a follow-up, he later told me that he must have really bored his clients at dinner that night. Because the only thing he talked about was the crown we made in that one visit.
If you look at this case and compare it with what used to happen in the old days, that same procedure would have taken three visits.
Now, anytime I see an emergency in our schedule that involves something broken, I'm thinking that we can turn it into production. And not just a stop-gap, put in a temporary and come back next week… I know that now, we can fit a crown using a TRIOS digital impression and our lab. For patients, like this example, digital is a lifesaver.
But don't you lose money by not having the return visits?
No, not at all. You have the same fee regardless of the number of visits. Because the patient is charged for the procedure and not per visit. So for us, we actually save time and money.
Plus, not having to make a temp is a big patient benefit. They don't have to come back to our office.
Patient education
Another important advantage of digital technology is its potential for patient education.
For example, I had a patient who had a lateral incisor that if you looked at it from the facial, it was perfect. If you looked at it from the lingual, there's an amalgam, there's a composite, and there's a vertical crack from the incisal edge to the gingiva.
Now how do you show that to the patient when it is on the lingual side?
In the old days, I would try with a mirror. I would try to take a photo. By the time I took the photo. Got it loaded on the computer or an iPad. It is now 20 minutes.
The patient is looking at his watch, thinking about getting out of here… the key in situations like these is speed. So now what I have started doing is take a scan and get a color digital impression in 3D.
If I scan the patient, I can take that lateral incisor and say, notice that from the labial your tooth is perfect. But if I flip it (onscreen) look at what I see that you cannot see. The scanner shows the crack.
The patient asks me, "what should I do?" I say, "let's schedule a crown," and boom – the patient schedules because it is such a convincing demonstration.
We are helping patients to co-diagnose.
So the scan serves to educate and in a way, empower the patient?
The best patient is an educated patient.
But the communication or educational process has to be quick and intuitive. It cant be, take a picture, load it up to the PC, find the image etc…
So now, rather than taking out the camera and iPad, I reach for TRIOS.
The idea of having a scanner in every room and having a hygienist pick up the scanner is becoming a reality in our practice.
So you could see scanning used on any patient visit?
There is so much information that I can now see because I am looking at the enlarged scan. It is like looking through my loupes that give four and half times the magnification. With a scan, I can expand the image on my screen as large as I like.
Basically, I could see us using a scan on not just any patient but EVERY patient. I definitely see a day when we scan each patient as part of our routine.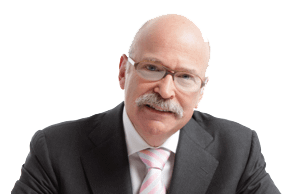 Will there come a day when you treat patients by just reviewing digital scans from an office chair?
Do you mean, do I imagine a day when I could be sitting in my beach house in the Bahamas leafing through scans on my laptop? It would be nice. But it won't happen because so much of our success is based on relationships and personal contact.
DR. JONATHAN FERENCZ
Dr. Ferencz is a Diplomate of the American Board of Prosthodontics and Clinical Professor of Prosthodontics and Occlusion in the Department of Advanced Education in Prosthodontics at the New York University College of Dentistry, where he has taught since 1972. He is also an Adjunct Professor of Restorative Dentistry at the University of Pennsylvania School of Dental Medicine.