Copenhagen, March 5, 2015 - 3Shape A/S, a leading global innovator of digital 3D solutions for dental labs and dental practices, will unveil two totally new digital dentistry scanning solutions at the opening of the 36th International Dental Show (IDS) in Cologne, Germany.
The two new solutions will be presented at a 3Shape press conference at the IDS 3Shape booth, Hall 4.2, #N090 - Tuesday, March 10, 9.30AM.
"We are extremely excited to be launching these two breakthrough solutions at IDS. Without giving away too much, I will say that the two new products are disruptive and will definitely grab the attention of dental professionals in both labs and practices," says Flemming Thorup, president and CEO, 3Shape.
3Shape will in addition, present an extensive industry-focused seminar program at its booth at the IDS event – see details below.
Europe's first look at the D2000 and D1000 desktop lab scanners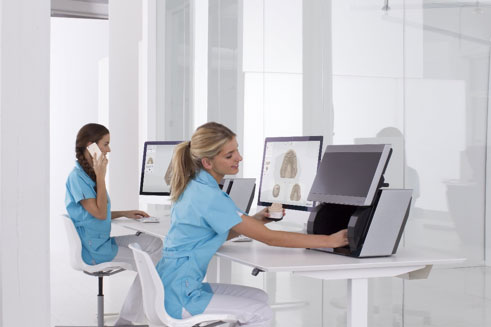 At the Midwinter Meeting in Chicago, USA in February, 3Shape introduced two new desktop lab scanners, the D2000 and D1000. The two new scanners feature improved accuracy and multi-line scanning – a breakthrough scan technology that has been shown in trials to increase scanning speeds by upwards of 30%.
The two new scanners received rave reviews at the USA event. IDS attendees are invited to come see the new scanners as well as 3Shape's upgraded D-series of lab scanners at its IDS booth: Hall 4.2, #N090. D-series desktop scanners video - http://ow.ly/JXxll
Dental System™ 2015 with new features and 3rd party integrations
Dental System™ 2015 CAD software solution has been upgraded with new dental indications, optimized workflows, and a new user-interface. Plus 3Shape, along with other leading dental product makers, have created third party workflow and library integrations to open new business opportunities for both dental labs and practices. IDS attendees can come demo Dental System™ 2015 at the 3Shape booth.
Latest Implant Studio™ and orthodontic software at IDS
Dental professionals have already labelled Implant Studio™ "game changing software." See why. IDS attendees are invited to come by our booth to demo Implant Studio™.
New orthodontics solutions
3Shape digital solutions and workflows for orthodontic professionals in both practices and labs have been enhanced as well. New developments include improved orthodontic analysis, treatment planning, and digital archiving, indirect bonding and CAD appliance design. New integrations that create completely digital orthodontic appliance manufacturing workflows between TRIOS and orthodontic solution providers and TRIOS Ready labs will be highlighted at the event. IDS attendees can demo 3Shape orthodontic solutions at the event.
Press conference on opening day
3Shape will hold a press conference on Tuesday, March 10, 9.30A at its IDS 3Shape Booth - Hall 4.2, #N090. Journalists and attendees are welcome.
3Shape products will be set up at the 3Shape stand to simulate real-life configurations. Dentists and labs will discover how to take advantage of complete digital workflows to benefit and grow their business.
3Shape lecture schedule at IDS 2015
All seminars will take place at the IDS 3Shape Booth - Hall 4.2, #N090
| | |
| --- | --- |
| Tuesday March 10, 2015 | |
| 09.30 - 10.30 | 3Shape press event |
| 11.00 - 11.40 | Dr. Shin Jun Hyouk: Digital art - taking CAD/CAM beyond its limitations |
| 12.00 - 12.40 | Dr. Santiago Isaza Penco: The clinical reality - 200 digital appliances with 3Shape Orthodontics |
| 13.00 - 13.40 | Karsten Tegtmeyer: Neue Möglichkeiten in Dental System™ 2015 (lecture in German) |
| 14.00 - 14.40 | Dr. Nelson Silva: TRIOS - a diagnostic wand |
| 15.00 - 15.40 | Rune Fisker: The latest innovations in lab scanners and CAD/CAM software |
| 16.00 - 16.45 | Dr. Luis Cuadrado: TRIOS - implant bridges and Implant Studio™ |
| | |
| --- | --- |
| Wednesday March 11, 2015 | |
| 09.15 - 09.50 | Dr. Jonathan L Ferencz: Implant workflows using TRIOS digital impressions |
| 10.00 - 10.40 | Dr. Lars Christensen: Digital workflows - advantages in the orthodontic office |
| 11.00 - 11.40 | Tais Clausen & Rune Fisker: 3Shape latest & greatest |
| 12.00 - 12.40 | Jochen Peters: Funktionale Morphologie im 3Shape Dental System™ (lecture in German) |
| 13.00 - 13.40 | Dr. Luis Cuadrado: TRIOS - implant bridges and Implant Studio™ |
| 14.00 - 14.40 | Dr. Simon Kold: My experience with TRIOS & 3Shape Implant Studio™ |
| 15.00 - 15.40 | Rune Fisker: The latest innovations in lab scanners and CAD/CAM software |
| 16.00 - 16.45 | Dr. Shin Jun Hyouk: Digital art - taking CAD/CAM beyond its limitations |
| | |
| --- | --- |
| Thursday March 12, 2015 | |
| 09.15 - 09.50 | Dr. Jonathan L Ferencz: Implant workflows using TRIOS digital impressions |
| 10.00 - 10.40 | Bernhard Egger: Digital bite splints with Appliance Designer software |
| 11.00 - 11.40 | Tais Clausen & Rune Fisker: 3Shape latest & greatest |
| 12.00 - 12.40 | Dr. Philip Tan: TRIOS in Australia - implant cases and much more |
| 13.00 - 13.40 | Karsten Tegtmeyer: Neue Möglichkeiten in Dental System™ 2015 (lecture in German) |
| 14.00 - 14.40 | Dr. Simon Kold: My experience with TRIOS & 3Shape Implant Studio™ |
| 15.00 - 15.40 | Dr. Shin Jun Hyouk: Digital art - taking CAD/CAM beyond its limitations |
| 16.00 - 16.45 | Dieter Spitzer: Dentures done digitally - from recording patient data to design and production |
| | |
| --- | --- |
| Friday March 13, 2015 | |
| 09.15 - 09.50 | Dr. Philip Tan: TRIOS in Australia - implant cases and much more |
| 10.00 - 10.40 | Dieter Spitzer: Dentures done digitally - from recording patient data to design and production |
| 11.00 - 11.40 | Tais Clausen & Rune Fisker: 3Shape latest & greatest |
| 12.00 - 12.40 | Stefano Negrini & Christophe Barthe: Indirect bonding of bracket with 3Shape Orthodontics |
| 13.00 - 13.40 | Rune Fisker: The latest innovations in lab scanners and CAD/CAM software |
| 14.00 - 14.40 | Jochen Peters: Funktionale Morphologie im 3Shape Dental System™ (lecture in German) |
| 15.00 - 15.40 | Dr. Andreas Adamzik: Der TRIOS Intraoralscanner - Die Technik der Zukunft (lecture in German) |
| 16.00 - 16.45 | Dr. Matthias Müller: Digitaler Workflow in der Zahnheilkunde, Grundlagen, Möglichkeiten, Visionen (lecture in German) |
| | |
| --- | --- |
| Saturday March 14th 2015 | |
| 09.15 - 09.45 | Dr. Philip Tan: TRIOS in Australia - implant cases and much more |
| 09.50 - 10.20 | Dieter Spitzer: Dentures done digitally - from recording patient data to design and production |
| 11.00 - 11.40 | Tais Clausen & Rune Fisker: 3Shape latest & greatest |
| 12.00 - 12.45 | Stefano Negrini & Christophe Barthe: Indirect bonding of bracket with 3Shape Orthodontics |